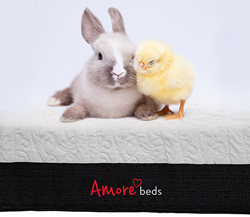 The fantastic thing about GOTS organic wool is that it's naturally flame resistant. We don't use harsh chemicals or controversial fire-socks to pass strict CPSC flame standards
Chicago, Illinois (PRWEB) May 18, 2017
Amore Beds today announced an all-new dual comfort mattress infused with GOTS (Global Organic Textile Standard) certified organic wool from New Zealand. Several years in the making, the new GOTS organic wool mattress offers a raft of superior features including improved comfort, thermo-regulation and fire protection at a price point that is inviting for customers nationwide.
"Our new GOTS organic wool infused mattress is a real game changer" said Todd Summerville, founder of Amore Beds. "None of the larger mattress companies are using GOTS organic wool the way we are. The wool is sustainably sourced and is quilted into our organic cotton lining, providing customers with a supremely soft, yet durable surface. We strive to continually improve our mattresses as new materials become available and we're excited to raise the bar yet again with this best-in-class mattress"
Greater Thermo-Regulation
The new line of mattresses offers dramatically improved thermo regulation through the use of GOTS organic wool, greatly enhancing the quality of sleep. "Wool is naturally breathable and acts as an ideal thermo regulator by cushioning you with a pocket of air" continues Summerville. "This pocket of air helps to regulate your body temperature, no matter the weather or season. We're proud to be one of the first online mattress companies in America to harness the thermo-regulating qualities of GOTS organic wool by quilting it directly into our fabric. Our company mission has always been to use only the best quality materials in our mattresses, and we're certainly living up to our mission with this exciting new feature."
World-Class Fire Protection
The new GOTS organic wool mattress provides world-class fire protection, giving customers peace of mind each and every night. "The majority of mattresses use an inexpensive controversial chemical-treated fire-sock" adds Summerville. "The fantastic thing about GOTS organic wool is that it's naturally flame resistant. We don't use harsh chemicals or fire-socks to treat our mattresses and we still pass strict CPSC mattress standards. This makes our mattresses incredibly safe to sleep on".
Fairly Priced
The new range of GOTS organic wool mattresses fall in line with Amore Beds ethos of providing the worlds best mattress at a price that the average consumer can afford. A full range of sizes are available starting at $475 and are less expensive than lower grade mattresses from other bedding retailers, both online and offline.
Amore Beds GOTS mattresses are now available via their online store where they offer a 100-night sleep-trial on all mattresses, free delivery, a 20-year warranty, and 0% APR financing. For complete information on the new range of GOTS organic wool mattresses, visit Amore Beds' newly redesigned website at amorebeds.com
For all other information, contact Support(at)AmoreBeds(dot)com or call 1-844-84-AMORE.