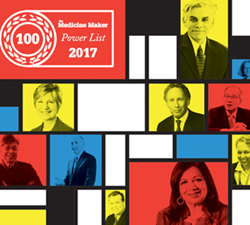 Those of us who are privileged to be colleagues of Maik have long known that we work alongside an exceptionally talented individual.
College Station, TX (PRWEB) May 17, 2017
G-CON Manufacturing, Inc., the leader in prefabricated cleanroom design and construction, announced today that their Chief Executive Officer, Maik Jornitz, was recognized as a Top 10 Industry Influencer on The Medicine Maker's 2017 Power List. The UK publication's Power List celebrates 100 individuals "involved in bettering the pharma industry and bringing life-changing medicines to market" across four categories.
Jornitz ranked eighth in the "Industry Influencers" segment. He was recognized for his influence on the industry in implementing new technologies in regard to 1) more flexible facility assets, 2) process designs and 3) regulatory initiatives which all serve to improve aseptic processing standards.
"I feel honored by the recognition and being part of this distinguished group of experts and industry influencers. It is motivating to know one's efforts support the industry and in particular the patients served by the industry," Jornitz stated.
Mr. Jornitz has previously received multiple other awards including the prestigious Martin Van Trieste Pharmaceutical Science Award. This award honors a Parenteral Drug Association (PDA) member for outstanding contributions made toward the advancement of pharmaceutical science.
"Those of us who are privileged to be colleagues of Maik have long known that we work alongside an exceptionally talented individual," said David Shanahan, Chairman of the Board of G-CON. "Formal recognition of his accomplishments is very gratifying and reflects the strength of the world-class team that we have assembled in support of G-CON's mission to transform the cleanroom industry."
The Medicine Maker Power List recognizes 100 pharmaceutical professionals across four categories, each made up of 25 noteworthy professionals—and each with its own top ten:

Masters of the Bench – scientists and researchers whose late-night lab work lays the foundations for new therapeutics.
Industry influencers – individuals who drive industry best practices and regulations, as well as new manufacturing techniques and technologies.
Business Captains – leaders and entrepreneurs who turn scientific ideas into marketable medicines.
Champions of Change – patrons of the industry who are striving to make the world a better place by getting medicines to those who need them the most.
View the complete 2017 Power List at http://www.themedicinemaker.com/power-list/2017.
About G-CON Manufacturing
G-CON Manufacturing designs, builds and installs prefabricated, autonomous cleanroom PODs®. G-CON's cleanroom POD® portfolio provides a number of dimensions for a variety of uses, from laboratory environments to personalized medicine and production process platforms. The POD® cleanroom units surpass traditional cleanroom structures by virtue of their scalability, mobility and the possibility of repurposing the PODs® once the production process reaches its lifecycle end. For more information, please visit the G-CON's website at http://www.gconbio.com.