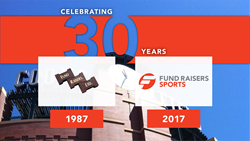 "The fans can see, touch and share their legacy, from generation to generation, which ultimately strengthens their relationship with the team, which is true fan engagement."
Boise, ID (PRWEB) May 18, 2017
Fund Raisers, Ltd., the company that has paved the way for hundreds of thousands of sports fans to express loyalty and allegiance to their beloved sports teams and alma maters since 1987, has rebranded as Fund Raisers Sports.
Celebrating their 30th year as the leader in fan recognition programs featuring engraved bricks, pavers, granite, tiles and glass, the enterprise has changed its name to pay homage to the decades of experience and valued partnerships in the sports industry. Fund Raisers Sports has personalized the fan experience for over 90 professional and collegiate sports organizations in the U.S., Canada and Mexico across MLB, NFL, NHL, NBA, NASCAR and the collegiate landscape. Their list of clients includes the San Francisco 49ers (Levi's Stadium), San Francisco Giants, (AT&T Park), New York Mets (Citi Field), Dallas Cowboys (AT&T Stadium), Boston Red Sox (Fenway Park), as well as Rose Bowl Stadium.
"We changed our name, but not our game," says Founder and President, Karen Lockner, with a smile. Lockner, a pioneer in the brick engraving business, started the company in a friend's garage. She purchased a sand blast cabinet and learned how to sandblast brick pavers for a local downtown revitalization project. Since then, the company has found a unique niche in the sports industry, working with some of the highest profile teams in professional sports with successful, revenue-generating fan recognition campaigns featuring hundreds of thousands of personalized pavers. Sports teams cherish and praise these programs because their fans flock to them from around the globe. Says Lockner, "We help our clients - the sports teams and colleges - engage their fans and the fans love that connection and, for me, that's personal and powerful."
With "fan engagement" such a hot industry buzz phrase, Fund Raisers Sports Chief Operations & Technology Officer Steve Baggerly observed, "Sports is about passion and connection, and these engraved brick campaigns capture that emotion. These bricks, with fans' heartfelt sentiments or family names displayed on each paver, become permanent installments in the entrances of many of the most iconic stadiums, ballparks and arenas in the country." He adds, "The fans can see, touch and share their legacy, from generation to generation, which ultimately strengthens their relationship with the team, which is true fan engagement."
With the popularity and success of these fan campaigns, organizations work with the Fund Raisers team to create more customized fan programs. Fund Raisers fulfills ticket holder promotional campaigns and kids' club packages, creates team-branded wine club memberships, designs engraved products tailored to luxury suite and premium sports industry clientele and provides marketing services to ensure successful program implementation.
For more information on Fund Raisers Sports, visit: http://www.fundraiserssports.com.