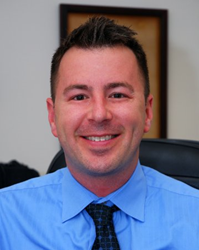 I'm thrilled to be working with RE/MAX, the number-one brand in real estate.
(PRWEB) May 18, 2017
RE/MAX Northern Illinois, the real estate leader, recently announced that Chris Calomino has joined the company as Marketing Communications Manager.
Calomino, 37, will be responsible for conceiving and executing marketing strategies and tactics that drive growth. In addition, he will help the overall brand development and messaging in the marketplace. RE/MAX Northern Illinois is looking to expand its technology and marketing efforts and provide a stronger presence across the northern Illinois region.
"I'm excited to have Chris join the RE/MAX team," said Jack Kreider, executive vice president and regional director. "His integrated marketing experience and skill set around modern, scalable marketing methods will allow us to capitalize on the strength of the RE/MAX brand as we continue to innovate and grow."
Calomino, who now lives in Crystal Lake, Ill., brings to RE/MAX a diverse marketing background, most recently from the printing and packaging industry where he served as marketing communications director for ACTEGA Coatings and Sealants. In that role, he was responsible for developing and executing all corporate marketing efforts, including global brand awareness and event marketing.
He has over 10 years of experience in digital and print product management and looks forward to integrating both mediums to appeal to real estate's wide audience.
"I'm thrilled to be working with RE/MAX, the number-one brand in real estate and to be affiliated with an organization and an industry that are known for the strength of their entrepreneurial spirit," Calomino said.
He holds a bachelor's degree in marketing from Bloomsburg University in Bloomsburg, Pa., and a master's degree in business management from Marywood University in Scranton, Pa.
RE/MAX agents consistently rank among the most productive in the industry. In 2016, RE/MAX Northern Illinois agents averaged 18 transaction sides. RE/MAX has been the leader in the northern Illinois real estate market since 1989 and is continually growing. The RE/MAX Northern Illinois network, with headquarters in Elgin, Ill., consists of more than 2,250 sales associates and 103 independently owned and operated RE/MAX offices that provide a full range of residential and commercial brokerage services. Its mobile real estate app, available for download at http://www.illinoisproperty.com, provides comprehensive information about residential and commercial property for sale in the region. The northern Illinois network is part of RE/MAX, a global real estate organization with 110,000+ sales associates in 100+ nations.
####
EDITOR'S NOTE: RE/MAX® is a registered trademark. Please spell in all caps. Thank you. This release is posted at blog.illinoisproperty.com.