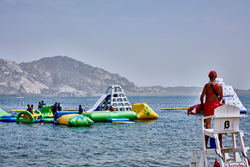 Perris, CA (PRWEB) May 17, 2017
A special invitation to celebrate Lake Perris' Waterpark Grand Opening. Jump, splash and play your way to the Grand Opening Party of Lake Perris Waterpark on Saturday, May 20th, 10am - 2:30pm. All guests are all invited to enjoy unlimited access to the giant water-play structure for FREE!
The waterpark is a welcome addition to the many fun offerings in the Lake Perris State Recreational Area," says General Manager Tammy Toral. "Expect Southern California summers to be even more fun and exciting with our colorful floating structures. We can't wait to see families have a fantastic time on the water."
Lake Perris Waterpark on Perris Beach is a giant water adventure park like no other. Climb the 14-foot King of the Mountain Ice Tower Climbing Wall, perfect your balance on The Revolution, slide down The Summit Express, somersault off of the Giant Trampoline On The Water and for the ultimate test in endurance - the Giant Action Tower XXL featuring a matrix climbing wall that will challenge both physical and problem-solving skills.
Enjoy refreshments, soak up the sun and unwind to live island music as treats and prizes await lucky raffle winners! Young children can enjoy the water in the safety of the water-play area created just for them. Sun, fun and thrills for kids and those who are truly kids at heart. There is something for everyone!
The Lake Perris Waterpark officially opens for the season on Saturday May 27th. Visit http://www.lakeperrisrecreation.com for more information.
Hours of Operation: Saturday & Sunday 11 a.m. to 7 p.m. Rates: $15 (adults), $10 (kids 17 and under), $5 (under 7). Children must be 48" tall and at least seven (7) years old to play on the large structures. There is an area specifically for the younger children to have fun at the waterpark. Adults are welcome. For more information, visit the Lake Perris Waterpark Website at http://www.lakeperrisrecreation.com/.
About Lake Perris
The waterpark is located in Lake Perris State Recreation Area where natural wonders abound. Surrounded by hills and small mountains, it is a convenient boating, camping and fishing destination. From hiking to horseback riding, swimming to jet skiing, it is a favorite summer destination for the greater Los Angeles area.
Contact Information
17801 Lake Perris Drive
Perris, CA 92571
LakePerrisRecreation.com
tpurcell(at)calparksco(dot)com