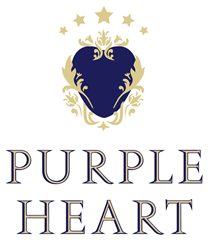 Napa, CA (PRWEB) May 18, 2017
Purple Heart Wines is delighted to announce John Moynier will assume the role of head winemaker at Purple Heart Wines effective immediately. After working with C. Mondavi and Family for over 30 years and serving in the military for four, John was a natural choice to lead the brand.
Before becoming a winemaker, Moynier served in the military during the Vietnam War from 1968-1972. For John, joining the military seemed like the most natural career path as his father was a retired Air Force Colonel and he dreamed of following in his father's footsteps. At the start of the Vietnam War, John was enrolled in college and decided to put his education on hold to serve his country. Upon his return he began taking courses at U.C. Davis to become a winemaker, and obtained a BS in Fermentation Science in 1975.
Soon after graduation from U.C. Davis, John joined C. Mondavi and Family in 1985, and has been the winemaker there ever since. The opportunity to lead Purple Heart Wines, a brand that not only embodies the excellence of C. Mondavi & Family, but is also committed to our nation's bravest, is priceless for John. "Working with a brand that combines my passions for winemaking and military service is the perfect finale to a long career in winemaking in Napa."
Moynier's enthusiasm for the brand is matched by the excitement of the team at Purple Heart Wines and C. Mondavi & Family. Third-generation leader Marc Mondavi commented, "We are thrilled to name John Moynier the Head Winemaker of Purple Heart Wines. His dedication to his craft has been evident in every bottle of wine he has made with us for the past 32 years."
Since the launch in March 2016, Purple Heart Wines has donated $30,000 to the Purple Heart Foundation. Donations to the Purple Heart Foundation have been used for a variety of services that supporting U.S. military servicemen and women and their families.
---------------------------------------------------------------------------------------------------------------------
About Purple Heart Wines:
Purple Heart Wines launched its proprietary label, Purple Heart, in 2016 – created to honor the determination, bravery and commitment of America's military heroes. Moved by its namesake, it is this noble medal that lead to the creation of the Purple Heart wine – a worthy tribute to the nation's servicemen and women. Produced in the United States' greatest wine region – California. It is an uncompromising wine crafted under the close stewardship of C. Mondavi & Family, whose patriarch, Peter Mondavi Sr., was a proud veteran of World War II. Purple Heart serves as a testament to the integrity and virtue of the Purple Heart Foundation, and aims to help further the organization's cause through both awareness and fundraising. To support these efforts, an annual donation will be given to the Purple Heart Foundation. Learn more about Purple Heart Wines at purpleheartwines.com.
Purple Heart Foundation and the Military Order of the Purple Heart:
The Purple Heart is a congressional military decoration, awarded to members of the armed forces of the U.S. who are wounded by an instrument of war in the hands of the enemy. Founded in 1958, the Military Order of the Purple Heart is a congressionally chartered veteran's organization, dedicated to assisting the needs of U.S. military servicemen and –women and their families. More information is available at purpleheartfoundation.org.