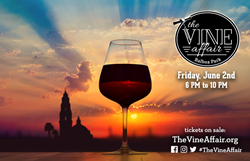 Throughout the evening, celebrated vintners, sommeliers and brewers will reveal the secrets of winemaking and brewing to teach attendees to become true connoisseurs.
San Diego, CA (PRWEB) May 17, 2017
There will truly be something for everyone at Balboa Park's newest event, The Vine Affair—a stylish celebration of wine, art, beer, artisan food and live entertainment coming up Friday, June 2, 2017, 6:00-10:00 p.m. Five of Balboa Park's museums will host unique art installations, live music, wine and wine education.
The San Diego History Center will host The Vine Affair's wine education series. Throughout the evening, celebrated vintners, sommeliers and brewers will reveal the secrets of winemaking and brewing to teach attendees to become true connoisseurs. Master sommelier Maurice DiMarino will guide guests through a blind tasting to help discern the nuances of a wine and fine-tune the palate. DiMarinos' wide-ranging travel over a 26-year career inspired his love for wine and viticulture that guides him today.
Learn the basics of viticulture, the science, production, and study of grapes with Luke Bramon, a specialist in vineyard management. Bramon is bringing wines from his own international wine brand Luke's Leap Wines, a premium boutique winery, where wines are handmade from small-batch and old-vine grapes. He is also a member of the Wilson Creek winemaking team, and lecturer at San Diego State University's Business of Wine program.
Mark Oberle of Meadiocrity Mead will spread the joy of mead with samples from his barrels. Meadiocrity believes good mead comes from good honey, and good honey comes from our backyards—literally. It's local San Diego County honey, raw and unfiltered, with distinct characteristics that change with the seasons so each mead batch is unique.
Husband and wife owners Eric and Lindsey Fillion of San Diego's Pardon My French Bar and Kitchen will educate event-goers on the enjoyment of pairing of a rich French-fusion dessert, Crémeux au Chocolat, with a tasting from their meticulously crafted boutique wine list.
As a tasting gallery, the San Diego History Center will celebrate the history and heritage of San Diego's Jewish Community. Enjoy a double helping of live entertainment, first from San Diego harpist Charissa Barger whose wide-ranging style has enabled her to work with artists from Wu Tang Clan to Barry Manilow. Then local klezmer band Yale Strom & Hot Pstromi fuses traditional klezmer, new Jewish music, Gypsy, khasidic, world beat and Balkan music. Food tastings will be comprised of Jewish-inspired food, wines and brews.
A jolly-good time will be had by all at The Fleet Science Center, featuring a British theme in honor of their current exhibition, Sherlock Holmes and the Clocktower Mystery. Enjoy Victorian-era London with featured steampunk group The Velveteen Band, a kaleidoscopic musical sideshow that delivers a wonderland dreamscape, set to capture the imagination with puppets on vocals, a deranged mad scientist, all led by a six-foot trumpet-playing rabbit. Additional entertainment by dance troupe Moreton Bay Fig Morris performing a variety of traditional and modern English folk dances. British-themed food, sherry and a wine-style beer round out this tasting gallery.
The San Diego Art Institute's Eclectic theme will explore wine's place in popular culture through a variety of live performances, such as native San Diego video artist Geoff Pritchard exploring the role of TV and Internet featuring viral footage of "The Grape Fall," a mishap during an Atlanta news segment on a grape stomping challenge at a winery. Artist Charles Snowden will perform a live sculpture at the event. Snowden's most recent exhibition showcased large-scale sculptures exploring his tentative relationship to the outside world. Finally, art exhibit "Extra-Ordinary Collusion" featuring more than 23 artist and scientist collaborations can be perused while event-goers enjoy a rainbow of food and beverage tastings from wine to sake, chocolate to cheese.
The Balboa Park Conservancy, in conjunction with The Prado Restaurant, will honor Balboa Park's heritage with a Spanish themed tasting room featuring several varieties of Spanish wine, paella, and tapas. Crowds will delight to the true flamenco tradition courtesy of Spanish guitarist Oscar Aragon.
The San Diego Model Railroad Museum features historic railroads from the 50s and 60s, and will swing into mid-century glamour. San Diego-native Jason Hanna's jazz trumpet will keep the joint jumpin', while attendees marvel at a live-performance painting by Bonnie Chance and sip and taste retro-inspired flavors.
Tickets are on sale now at http://www.thevineaffair.org. Unlimited tasting—$65, VIP—$100, designated driver—$35.
For more information, visit our website http://www.thevineaffair.org, or follow us on Facebook https://www.facebook.com/TheVineAffair/, Twitter https://twitter.com/@The_Vine_Affair, & Instagram https://www.instagram.com/thevineaffair.
Thank you to our generous partners who have donated food and beverage to this event: Owl's Brew, Guthrie CiderWorks, Negociant North Park Urban Winery, Modern Times Beer, Meadiocrity, Ristorante Illando, The Melting Pot, Homestyle Hawaiian, Shmaltz Brewing Co., Tiojito Tio Pepe, Bread & Cie, Worldbeat Center, Segura Viudas, Bodega Vionta, Ferrer Family Wines, Torres Winery, Barefoot Wine & Bubbly, Cypress Grove, The California Fruit Wine Co., The Lost Abbey, Setting Sun Sake Brewing Co., The Prado restaurant, Stone Brewing, San Diego Beer, Wine & Spirits Tours, Shakespeare's Corner Shoppe, The Steeping Giant, Tatter's Treats, Nibble Chocolate, Bitchin' Sauce and Jimbo's Naturally.
ABOUT BALBOA PARK CULTURAL PARTNERSHIP
Balboa Park Cultural Partnership is a nonprofit organization through which 30 arts, science and cultural institutions in Balboa Park collaborate to achieve shared goals. By helping these groups achieve greater organizational efficiency, innovation and excellence, it seeks to contribute to the vitality and sustainability of Balboa Park. For more information visit http://www.bpcp.org.