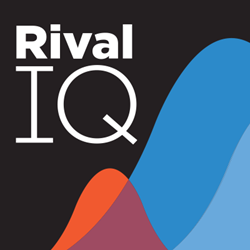 With our paid social media spend increasing month over month, Facebook Ads Analytics makes it easier to manage multiple campaigns so that we never miss a critical detail. - Ryan Krumins, Sauder School of Business
Seattle, Washington (PRWEB) May 17, 2017
Rival IQ, the leader in social marketing analytics and insights, today announced Facebook Ads Analytics, the latest addition to its popular solution for setting social media strategy. This release empowers digital marketers to analyze and report on their Facebook Ads campaigns easily–including Instagram, Audience Network, and mobile–for faster and more intuitive optimization and better return on their Facebook advertising dollars.
According to Facebook, the social media giant has experienced a 51% growth in ad revenue since last year, highlighting substantial growth in social media advertising. The 5 million advertisers Reuters reports are leveraging Facebook Ads today need more tools like Rival IQ to drive smarter, faster decision-making. Rival IQ's Facebook Ads Analytics arms marketers with an interface more intuitive than Facebook's native platform as well as provide ads insights derived from Facebook Ads data.
Using the newest Facebook Ads Analytics features, Rival IQ customers can:
Bolster Ad Performance–Improve ad performance and save time with clear and comprehensive analysis.
Solve Reporting Problems–Produce detailed, insight-filled, and sophisticated campaign reporting in less time and with less effort.
Improve Audience Targeting–Through enhanced insights, marketers can quickly identify which ads to serve to which audience.
"Social media is an integral part of our marketing strategy, and Rival IQ has helped define our success by showing my team our top performing content and how we stack up against our competitors," said Ryan Krumins, social media specialist at the Sauder School of Business. "With our paid social media spend increasing month over month, the Facebook and Instagram Ads Analytics makes it easier to manage multiple campaigns so that we never miss a critical detail."
"The TBD Media team is thrilled for the addition of Facebook and Instagram Ads Analytics," said Cat Killfoil, chief executive officer at TBD Media. "Reporting on ad campaigns is time-consuming, and our existing ad management tools make it difficult to pull the data we need to optimize campaigns on the fly. With Rival IQ's Facebook Ad Analytics, we're excited to leverage new insights to improve ad performance, as well as deliver timely and clear automated campaign reports that our clients expect."
"Advertising on social media has proven to be extremely effective and will continue to grow rapidly," said Seth Bridges, head of product at Rival IQ. "Facebook and Instagram's robust segmentation capabilities empower marketers to target their audience with precision, but the self-serve ad analytics manager interface has left them longing for something more intuitive and prescriptive. That's what we've built in Rival IQ."
Rival IQ delivers digital marketing analytics with a competitive and comparative context, equipping marketers with a toolkit for uncovering new opportunities, identifying trends, and tracking results across all the key social channels and the web. The insights revealed in the reports help set tangible benchmarks, make data-driven decisions, improve results, and better understand competitors.
Companies and marketing agencies that are interested in pinpointing audience ad targeting and optimizing their social ads spend on Facebook and Instagram may visit http://www.rivaliq.com for a free trial of Rival IQ.
Contact: Danica Benson
Email: media(at)rivaliq(dot)com
About Rival IQ
Rival IQ's powerful software helps digital marketers boost performance, strengthen strategy, make better informed content decisions, and improve their social media engagement using clear analytics and competitive insights. For more information, visit http://www.rivaliq.com, call +1.206.395.8572, or follow us on Twitter, LinkedIn, and Facebook.
"Rival IQ's new Facebook Ads Analytics has an immense amount of data to help you optimize Facebook and Instagram ad campaigns," said Dominic Taguinod, digital marketing manager at Blue Anvil. "They take data that you would usually sift through in the Ad platform, and organize it in a way that's much easier to navigate and digest. The "under performer/top performer" snapshot gives you places to start optimizing, and streamlines the process of breaking down performance."
"Rival IQ's Ads Analytics does the heavy lifting," said Ben Smith, social media manager at Mediassociates. "Facebook Ads Analytics provides an easy-to-understand dashboard view of what's running and where efficiencies can be gained to improve ad investments."
"Successful ad targeting means constant iteration and testing," said Simon Alexander, joint managing director at Feedfirst Media. "With the new alerts and insights from Rival IQ's Facebook Ads Analytics, our team can get even better outcomes."
"The first hours after launching a new ad campaign are critical," said Chris Mikulin, digital marketing manager of Box Clever. "With Rival IQ, I'll be alerted about where an ad is underperforming and be able to make improvements swiftly."
"Rival IQ is already an indispensable part of our social reporting toolkit," said Dana DiTomaso, president and partner of Kick Point. "The addition of Facebook Ads Analytics gives us even more insights to help our clients make smarter marketing decisions."
"Rival IQ already helps us prove the value of social media to the business and strengthen our strategy," said Fabiola Romero, social media customer care specialist at Yamaha Motor. "Now with the new Facebook Ads Analytics, it will solve the complexity of reporting the variety of Facebook and Instagram ad campaigns we manage."
"In today's complex marketing world, it's our job as an agency to make things easier and simple for our clients," said Ian Cantle, president and chief marketing strategist at Outsourced Marketing. "Rival IQ helps us do that, and the addition of Facebook Ads Analytics will enable us to create seamless reports."