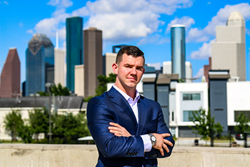 What comes naturally to me can bring huge, huge rewards to businesses that are ready to make that next leap forward.
Houston, Texas (PRWEB) May 18, 2017
Ever since he was a kid, Jared McKenzie was obsessed with marketing. Diagnosed with Tourette's syndrome and ADHD at an early age, he would find his rapid-fire attention flitting from one advertisement to the next, absorbing every detail and nuance. Advertising spoke to his explosive attention span like few other things could.
"Marketing just always came naturally to me. From a young age I intuitively understood how to get a message across to customers and how to create demand…. But I never imagined this ability could create so much success for myself and others."
When he reached school, however, Jared's rapid-fire mannerisms got him into trouble. He was prescribed incorrect medication that caused him to suffer from outbursts and was kicked out of three different middle schools before the doctors realized that the medication was sending his already hyperactive brain into overdrive.
In school, Jared's tendency to move quickly and break the rules caused problems for him. But everything changed when he dove into the world of business. He quickly realized that his ability to rapidly absorb information and plot new, explosive paths of action was a recipe for huge success when applied to small business marketing.
As he entered college and began to examine his strengths, Jared dove into the world of small business marketing. He quickly noticed that most small business owners had no clue how to use the internet to grow their business and create better lives for themselves and their customers. They were faced with an ocean of opportunity so large and intimidating that they were afraid to dip their toes in.
Jared realized that he could walk into any small business, and apply his rapid-fire, rule-breaking marketing methods to help them move leaps and bounds above their competitors. For the first time in his life, Jared's rapid-action style began to bring him a fortune instead of getting him into trouble. He realized that he was capable of creating more success than he had ever thought possible.
"I realized that my ability to move fast and quickly create solutions that bring in more customers and clients is exactly what so many small businesses lack. What comes naturally to me can bring huge, huge rewards to businesses that are ready to make that next leap forward. What I thought was my greatest weakness is actually my greatest strength!"
Shortly after making this discovery, Jared founded Physic Media, a marketing agency with a simple, refreshing message: Succeeding in small business doesn't have to be difficult or complicated. All it takes is a willingness to move quickly and expand your vision of what is possible.
Physic Media was an instant success, exploding past $50,000 in revenue mere months after its launch. The clients that Physic Media attracts all share one thing: They are willing to move quickly and break convention in order to create better lives for themselves and their customers. Jared helps small businesses become more successful than they thought possible, just as he did for himself years before.
For more information on Physic Media, visit physicmedia.com.