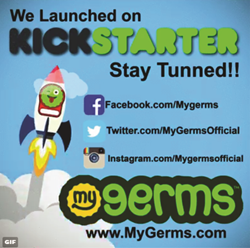 Keep Tabs On Your Bottle
Houston, Texas (PRWEB) May 17, 2017
People around the world who want to play a pivotal role in bringing the patent-pending My Germs vision to life — and get very nicely rewarded for their efforts — can now back the groundbreaking project through a new Kickstarter campaign that launched on May 14, 2017.
My Germs is the world's first personalized bottle tab. People easily slip a colorful My Germs tab over any sized bottle — water, sports drinks, juice, alcoholic beverage, etc. -- to instantly claim ownership. When they've finished drinking, they just as easily remove their My Germs tab for future use. Since the lightweight and portable product is made from high quality silicone, it's durable, maintenance-free, lasts for years, and will not lose its original shape even after repeated use.
My Germs is a simple and practical solution to an age-old problem of confused or mistaken bottle ownership, and categorically superior to ineffective bottle-marketing methods such as writing on the label or cap, tearing off the label, scrunching a bottle, and so on. Thanks to My Germs, people save money, avoid spreading germs, and protect the environment. Plus, My Germs makes bottled drinks and social gatherings last longer, and prevents people from accidentally mixing drinks in the cooler or fridge.
"My Germs is also perfect for corporate and event promotions, because people will enthusiastically use them year after year," commented My Germs' inventor and entrepreneur Victor Rey, whose company WristbandConnection.com launched the custom-designed silicone wristband industry more than a decade ago. "Instead of giving out pens and other boring products that usually end up getting lost or thrown away within days, My Germs is fun, eye-catching, useful and instant conversation-starters. It's the perfect combination for a lasting, positive branding experience."
The goal of Rey's Kickstarter campaign is to raise $13,000 by June 14, 2017 (or earlier) in order to cover the costs of My Germs production molds ($8,000), as well as retrofit and upgrade WristbandConnection.com's machines to handle the My Germs personalization process ($5,000).
Pledge tiers for the campaign start at just $5, for which backers get a personalized My Germs tab, magnet and key chain. Other tiers with corresponding rewards are pegged at $7, $10, $15, $18, $20, $34, $300, $450 and $650. For this latter amount, backers get 1000 custom My Germs tabs to promote their business, event, or any other promotional use. Worldwide shipping is included, and all tab personalization is proudly done in the USA.
For more information on My Germs' funding campaign, visit the Kickstarter page at https://www.kickstarter.com/projects/helpful-products/the-worlds-first-personalized-bottle-tab.
For more information on My Germs visit http://MyGerms.com, or follow My Germs on Facebook at https://www.facebook.com/MyGerms.