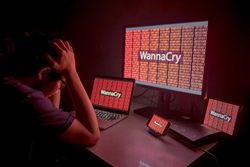 The latest brazen ransomware attacks are a sign of more to come. As long as someone is not prepared, the attacks will continue.
Hoboken, New Jersey ­ (PRWEB) May 17, 2017
A NYC area email security provider, IT consultant and MSP presents simple steps that organizations can take to prevent successful ransomware attacks—in a new ransomware defense article on the eMazzanti Technologies website.
In the informative article, the company discusses the May 12, WannaCry ransomware attack and a recent ransomware warning from the 2017 Internet Security Threat Report by Symantec. Three vital email security tips for defending against ransomware are then presented.
"The latest brazen ransomware attacks are a sign of more to come. As long as someone is not prepared, the attacks will continue," related Jennifer Mazzanti, CEO, eMazzanti Technologies. "Organizations must act now to shore up their defenses because every business is already a target."
Below are a few excerpts from the article, "3 Steps to Protect Critical Business Data from WannaCry Ransomware Attack."
"In April, Symantec released its annual Internet Security Threat Report. The report warned that ransomware posed one of the most significant threats facing organizations. Just weeks later, cyber criminals launched a widespread ransomware attack. The attack crippled the hospital system in Great Britain and affected business and government networks globally."
"Users of infected computers found their data held hostage with unbreakable encryption. Attackers demanded ransom payment in bitcoin, threatening to destroy the data after a deadline passed. However, according to experts at Norton, in 2016 only 47 percent of victims who paid ransoms recovered their data."
"Not only is it critical to keep anti-virus software updated, but be sure to also update your operating system and other software. This helps to guard against recently uncovered vulnerabilities that attackers can exploit."
"Two months prior to the May 12 attack, Microsoft received a tip regarding the server vulnerability. The company quickly released a patch that would have protected computers from the ransomware. Unfortunately, many organizations delayed implementing the patch."
Peace of Mind with eMazzanti
Staying on top of emerging internet threats can tax an organization, diverting energy away from growing the business. eMazzanti offers 24/7 protection for critical business assets with customized managed services. Count on multi-level security, software update management, email monitoring and more.
With proactive security measures in place, threats like the recent ransomware attacks will not leave owners and managers scrambling to recover vital business data held hostage. Minimize business disruptions and gain the peace of mind that comes with knowing that the organization's data is more secure.
Related resource information:
Internet of Things security primer
Reliable Email Protects Mission-Critical Communication
About eMazzanti Technologies
eMazzanti's team of trained, certified IT experts rapidly deliver retail and payment technology, digital marketing services, cloud and mobile solutions, multi-site implementations, 24×7 outsourced network management, remote monitoring and support to increase productivity, data security and revenue growth for clients ranging from law firms to high-end global retailers.
eMazzanti has made the Inc. 5000 list seven years running, is a 2015, 2013 and 2012 Microsoft Partner of the Year, 2016 NJ Business of the Year, 5X WatchGuard Partner of the Year and one of the TOP 200 U.S. Microsoft Partners! Contact: 1-866-362-9926, info(at)emazzanti(dot)net or http://www.emazzanti.net Twitter: @emazzanti Facebook: Facebook.com/emazzantitechnologies.