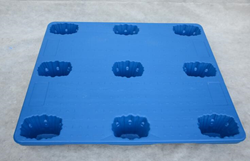 Dongguan,China (PRWEB) May 18, 2017
WeePallet, a global leader in manufacturing and supplying plastic pallets today begun supplying custom injection molded plastic pallets. This comes at a time when the demand for plastic pallets as increased due to the strict regulations on wood pallets.
By incorporating injection molding, WeePallet aims to expand its plastic pallet manufacturing capability and capacity. WeePallet has currently adopted thermoforming and blow molding technics in plastic manufacturing.
"WeePallet uses high-grade 100% virgin HDPE or PP material with sophisticated technology to ensure accuracy, consistency and reliability of all injection molded plastic pallets," said Blue Chen, WeePallet Product Manager. "So far, we have acquired 30 sets of injection molding machines with over 212 different molds, with customized options available. We believe this will make WeePallet a one-stop shop for all plastic pallets sourcing solution."
Features of Injection Molded Plastic Pallets
4 different designs available
Depending on the specific requirements of clients; WeePallet molds: Double side, nine legs, picture frame and three runner plastic pallets. They are available in different options such as heavy duty, storage, shipping, light duty and euro pallets; depending on the specific applications.
Ideal for cold supply chain management
WeePallet has designed plastic pallets for refrigerated vans, cold rooms, cold storages, etc. They can withstand extremely low temperature without compromising on strength, durability and functionality.
Dimensional stability
WeePallet injection molded plastic pallets have passed all quality tests and they have proved to be impact resistant, with the ability to resist forklift abuse. They have an exceptional dimensional stability even after long use.
Forklift entry: A forklift can access the injection molded plastic pallets either through the 4-way or 2-way entry points. This is for easy and convenient handling of plastic pallets.
By supplying custom injection molded plastic pallets, WeePallet aims to empower all its clients with the ability to market and brand their business. The WeePallet technical team helps with the entire design process.
About WeePallet
WeePallet is an internationally recognized manufacturing force for plastic pallets in China. The company uses a high-tech molding process and testing equipment.
It uses high quality and virgin HDPE and PP materials. Currently, it has a production capacity of 15,000 per day. WeePallet is now one of the best plastic pallet manufacturers in China.
Media contact:
Blue Chen
Email: blue(at)weepallet(dot)com
Phone: 86-137-1715-1153
Website: http://www.weepallet.com/