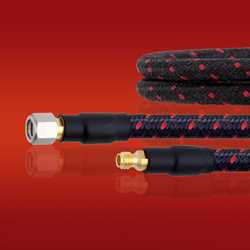 "We are very excited to introduce these new VNA test cables to our expanding line of test & measurement products...engineers can now order these VNA cables for same day shipping to meet their urgent needs," said Randy Leenerts, Senior RF Engineer
ALLEN, Texas (PRWEB) May 18, 2017
Fairview Microwave Inc., a supplier of on-demand microwave and RF components, has introduced a new line of 1.0mm flexible cables operating up to 110 GHz. These cables are designed to provide precision results for Vector Network Analyzer (VNA) testing, automotive radar testing, semiconductor probe testing and military radar testing. These VNA cables are perfect for use in radar, test bench, millimeter wave radio and microwave radio applications.
Fairview's new flexible, high-performance VNA test cables operate at up to 110 GHz and deliver precise test results using coaxial cable and 1.0mm stainless steel connector interfaces. The coax cable is covered by a non-conductive Nomex®, light-duty armored outer sleeve that protects the small, 0.27-inch diameter VNA cable and improves durability during flexure. These VNA cables feature 50 Ohm impedance, excellent phase/amplitude stability under flexure and a maximum VSWR of 1.5:1.
These new flexible 1.0mm VNA test cables operate over a wide temperature range from -65°C to +125°C. Additionally, these vector network analyzer cables are RoHS and REACH compliant, and the assemblies are fully tested and are shipped with serialized test data. These new VNA cables are available in standard 6-inch and 12-inch lengths with male-to-male or male-to-female configurations off-the-shelf.
"We are very excited to introduce these new VNA test cables to our expanding line of test & measurement products. With the continued growth of millimeter wave applications, engineers can now order these VNA cables for same day shipping to meet their urgent needs," said Randy Leenerts, Senior RF Engineer at Fairview Microwave.
Fairview's new 110 GHz VNA test cables are in-stock and ready to ship today. You can view these new test cables by visiting https://www.fairviewmicrowave.com/rf-products/110-ghz-flexible-1.0mm-vna-cables.html. For inquiries, Fairview can be contacted at +1-949-261-1920.
###
About Fairview Microwave:
A leading supplier of on-demand RF and microwave products since 1992, Fairview Microwave offers immediate delivery of RF components including attenuators, adapters, coaxial cable assemblies, connectors, terminations and much more. All products are shipped same-day from the company's ISO 9001:2008 certified production facilities in Allen, Texas. Fairview Microwave is an Infinite Electronics company.
Press Contact:
Peter McNeil
Fairview Microwave
17792 Fitch
Irvine, CA 92614
(978) 682-6936 x1174