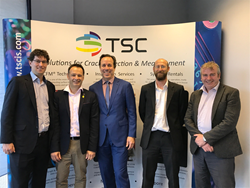 We are extremely pleased to see TSC joining an expanding and progressive NDT technology group that really understands the dynamics of the industry today [...]
Québec, Quebec (PRWEB) May 18, 2017
As a world leader in advanced inspection solutions, Eddyfi Technologies is thrilled to announce the acquisition of TSC Inspection Systems.
Headquartered in Milton Keynes, UK, TSC has significantly contributed in shaping the landscape of electromagnetic testing technologies over the last 30 years. The company developed the field-proven ACFM® technology with support from BP, BG Group, Conoco, and Shell, who were keen to significantly improve the reliability of underwater inspections, reduce operator dependence, and provide auditable inspection records. Decades later, the ACFM technology is specified by owners and operators of safety-critical infrastructures worldwide and is accepted as one of the most reliable methods of detecting surface-breaking cracks in steel structures and metallic components. The company's StressProbe™ technology also provides highly versatile, non-contacting strain measurement systems that can operate through coatings in harsh environments, both onshore and subsea. TSC currently has 35 employees and satellite offices in Aberdeen and Singapore.
After its successful acquisition of Silverwing in 2016, this additional strategic transaction reinforces Eddyfi Technologies' presence in the UK and broadens the company's portfolio of technologies and addressable markets. Martin Thériault, president and CEO of Eddyfi Technologies says: "We will be investing significantly to advance TSC technologies and products, while preserving the widely recognized history of ACFM and StressProbe. We will move the company closer to a technology provider role in better collaboration with the various players of the industry. Our wide network of sales and applications engineers will allow us to support ACFM users worldwide and offer the best to all those relying on the technology to perform surface inspections, topside and underwater. Finally, we are especially excited about entering the subsea market and expand our range of solutions for the world's most challenging offshore oil and gas applications."
Chris Walters, CEO of TSC adds: "We are extremely pleased to see TSC joining an expanding and progressive NDT technology group that really understands the dynamics of the industry today, with a team and vision for growth that offer incredible synergies to the TSC brand, technologies, and products. We believe that Eddyfi Technologies' scale, expertise, and reputation in advanced NDT technology will be key to advancing the capabilities and applications for ACFM and StressProbe in new exciting markets. It is fantastic to join forces as a unique, world-class NDT technology provider and we appreciate very much the support of our institutional backers Octopus Investments and Encore Capital, and our advisers Simmons & Company International that helped make it happen."
With this acquisition, Eddyfi Technologies further accelerates its scaling and growth with more than 235 employees and sales in 70 countries.
Last March, Caisse de dépôt et placement du Québec (CDPQ), one of North America's leading institutional fund managers, invested in Eddyfi Technologies to help it pursue its international growth plan. As a minority shareholder of the company, CDPQ's investment has helped finance this new acquisition.
Media contact:
Veronique Chayer
Eddyfi Technologies
+1 418-780-1565 ext. 430
+1 581-999-9202
vchayer(at)eddyfi(dot)com
About Eddyfi Technologies
Eddyfi Technologies maximizes the potential of multiple advanced and niche NDT inspection technology brands. With its three centers of excellence in Québec (Canada), Swansea (UK), and Milton Keynes (UK), Eddyfi Technologies focuses on offering high-performance NDT solutions for the inspection of critical components and assets through three strong, complementary brands: Eddyfi, Silverwing, and TSC. Eddyfi Technologies serves customers in more than 70 countries in such major industries as nuclear, power generation, oil & gas, and aerospace, leveraging several offices around the globe, all staffed by NDT experts.