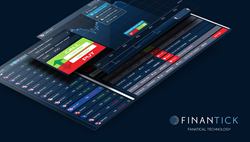 You can even look at the advent of crypto currencies and how nearly no platform has provided funding and BTC based accounts… yet we have and it's working phenomenally
(PRWEB) May 19, 2017
Newcomer Finantick launches a new version of its binary brokerage platform, now offering a new user interface, messaging and pop up system, as well as direct integrations to the largest affiliate systems.
The company, which was largely unknown outside of closed circles, edged into the market by providing a niche and boutique approach to the provision of binary options platforms and now also offers forex trading as well. Whilst many of its competitors boast large-scale marketing and sales teams, Finantick doesn't seem to be anywhere to be found. Nonetheless, in its two years, it has racked up a seemingly large number of clientele, 32 active brokerages to be exact. This is rather impressive for a binary platform system that has come out of nowhere.
In this space, where brokers don't ordinarily jump ship from the providers they work with, it is quite interesting to see that a relatively new platform provider has been able to carve a niche in this very tight market where competition has driven down both the number of brokers actively seeking such solutions as well as the royalties.
It is also well known that the industry is suffering from a serious PR problem of late making their rise all the more note worthy. So where does a company like this, well off on the fringe of this industry, find clients? According to the company's CEO, "Customers are simply coming to Finantick when they've been left behind by the larger platforms. The big guys seem to just want the million dollar plus brokerages. Well, what are you going to do? Not every brokerage is going to get there. It is our job, as a platform provider to be there when no one else will. And we've done that rather well. Providing support, time, even finding and integrating affiliates and their software just so we can be the platform that got it done for the client. I guess that's the missing element today. Just doing whatever it takes. You can even look at the advent of Cryptocurrencies and how nearly no platform has provided funding and BTC based accounts… yet we have and it's working phenomenally."
The company doesn't believe that binary is over either. On the contrary, it's actually taking steps to widen the offering and make it more amenable to the regulators by simply making the platform a tighter and less manipulative environment. We obviously commend Finantick for this much needed face lift for the industry. However, it is clear that binary is not at its peak and probably wont reach the levels seen in previous years again. So what's the future? According to the company, a mix of very sleek binary options user interface coupled with a simple and easy trading method for Forex trading is the future. Forex trading has and will be a very lucrative market and Finantick is making a forway into this space as well. A fresh approach… let's wait and see.
About Finantick
Finantick is a binary and Forex platform developer. Since inception in 2015, the company has been striving to create a better and more robust offering in this very competitive field. With many choices in platforms, Finantick has wedged itself in amongst giants with a firmer grip on the ins and outs of the brokers' needs. With over 30 brokerages now, Finantick can truly be seen as a viable competitor in the market.