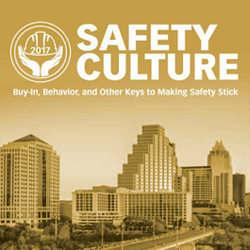 Companies are now starting to recognize just how critical safety culture is—not only for reducing high-risk behaviors but also for lowering accident rates, turnover, and absenteeism.
Brentwood, TN (PRWEB) May 18, 2017
Independent research shows that developing a strong safety culture has the single greatest impact on accident reduction of any process. With this statistic in mind, leading information publisher BLR®—Business & Legal Resources will host its second annual Safety Culture conference, outlining a practical action plan to achieve positive safety outcomes through behavior-based, employee-driven programs.
At this 2-day recertification event, attendees will learn how to:

Align management and supervisors by establishing a shared vision of safety and health objectives.
Implement processes that create more accountability for safety compliance.
Evaluate and fine-tune incentives and disciplinary systems to ensure maximum effectiveness.
Define safety responsibilities across an organization.
Restructure an organization's safety committee model to allow it to function at peak performance.
Optimize reporting, hazard tracking, and other measurement metrics.
Implement proven encouragement models to engage workers in safety training.
Build essential leadership skills.
"Companies are now starting to recognize just how critical safety culture is—not only for reducing high-risk behaviors but also for lowering accident rates, turnover, and absenteeism, as well as boosting morale," says Amanda Czepiel, JD, senior managing editor of EHS at BLR. "We've crafted an agenda that looks at how real companies have achieved success in this area and what others can glean from their programs and from OSHA recommendations."
The Safety Culture 2017 speaker panel comprises experts from a range of industries and proficiencies to appeal to a diverse audience. Notable presenters include TalentMap Senior Vice President of Employee Engagement Norm Baillie-David, MBA, CMRP; Randstad North America Senior Vice President of Risk Management and Insurance Corey Berghoefer; safety BUILT-IN CEO Eric Svendsen, PhD; and Cajun Constructors Division Safety Manager Dustin Hickey, CSP, ASP. The event will kick off with an entertaining and innovative keynote on getting your workforce to say "yes" to safety, led by Graham Neil and Donovan Workun of Power of Yes. The event is sponsored by SafeStart.
The agenda includes HR and safety-accredited sessions on:
Practical Steps for Getting Buy-In: Creating an Activities Infrastructure to Influence Safety Culture Success
Safety Orientation and Onboarding: 3 Steps for Instilling Cultural Conformity from the Get-Go and Reinforcing Expectations Along the Way
Safety Culture Straight Talk: Strategic Communication Tools for Getting Your Messaging to Stick
Supercharging Your Safety Committee: How to Develop Powerful Advocates of Safety and Compliance Initiatives
Temporary Work, Not Temporary Safety Culture: How Host Employers Can Overcome the Challenges of Integrating and Engaging Contractors and Freelancers
And more
The full agenda and additional information can be seen at SafetyCulture.BLR.com.
Safety Culture 2017 will be held in the exciting city of Austin, Texas, at the Marriott Austin Downtown Convention Center.
_________________________________________________
About Business & Legal Resources
BLR®—Business & Legal Resources helps U.S. businesses simplify compliance with state and federal legal requirements, and we help them become more successful. We do this by offering authoritative content and practical, easy-to-use tools. Through our expert in-house editors and exclusive attorney network, we provide the most comprehensive, reliable state-specific information available—and we do it in all 50 states. Our award-winning information products—including training programs, events, Web portals, reports, and subscription services—give businesses of all sizes and industries the best tools available at affordable prices. Visit BLR.com or call 800-727-5257.
###