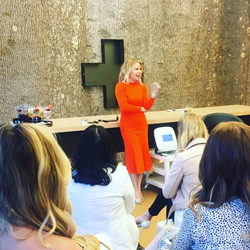 Washington, DC (PRWEB) May 18, 2017
SHERBER+RAD is the singular destination that addresses aesthetic needs from start to finish and is expert in the "Washington aesthetic" of looking subtly refreshed. As technology has updated with high-definition film becoming the new standard and social media filters giving individuals the power to alter their appearance on their smartphones, skincare, lasers, injectables, surgical techniques, and makeup formulations have evolved to meet the demands.
Board certified dermatologist Dr. Noëlle Sherber spoke on May 8th to a group of regional press about new technologies in skincare and laser aimed at smoothing the skin since HD film emphasizes texture on the skin by accentuating light and shadow. Seeing that blurring the skin into uniformity is a popular social media filter effect, skincare companies have developed moisturizers with similar blurring properties that lend themselves to on-camera and real life wear by filling in pores and fine lines. Dr. Sherber provided a live demonstration of Solta's Perméa laser, which is clinically proven to diminish pore size over time through stimulating collagen production. This is a very popular procedure with her patients who appear on camera since it results in only a few hours of post-procedural pinkness. Dr. Sherber applied La Mer The Concentrate post-treatment to calm the skin. She then discussed the newest FDA-approved injectable dermal filler, Allergan's Juvéderm Vollure XC. This filler incorporates Vycross technology which makes it soft and flexible, making it undetectable in HD. Dr. Sherber injects fillers in very small quantities to bounce light from areas of shadow to give the appearance of soft lighting even in harsh light, an effect that some achieve with their own social media filters.
Board certified plastic surgeon Dr. Ariel Rad spoke to the press about his technique of small-volume fat grafting to achieve a permanent result as can be achieved temporarily with injectable dermal fillers. Fat grafting can also be combined with mini-lifts for those who wish to improve the contour of areas such as the undereye or jawline. Now that apps such as Facetune enable contour correction of the face on a smartphone, Dr. Rad sees in consultation patients who have been editing their photos to trim in the contour of their neck or smooth their undereyes, and this can be an indication that a mini-lift is the procedure best suited to their expectations. A mini-lift of the neck is a particularly popular procedure in his DC practice and this may relate to a strong jawline being associated with a powerful appearance; an observational study of Fortune 500 CEOs found that 90% had a strong chin, and this feature can get lost if the jawline loses definition with age. Dr. Rad counts among his patients many men in the public eye and has found this has only increased in recent years as men have come to understand that plastic surgery procedures can confer a natural-looking result with quick recovery.
Makeup artist in residence Enrique Valentino demonstrated how to achieve high-definition-ready makeup, drawing on over a decade of experience with the beauty world's top brands. Enrique explained that HD cameras pick up any product texture or harsh lines of contour on the skin and presented camera-ready techniques with the newest formulations from TOM FORD Beauty, for which SHERBER+RAD is the only retailer in downtown DC. To minimize texture, he emphasized that the focus must be on achieving an immaculate complexion by perfectly blending translucent layers of minimal product to accentuate the facial architecture. Enrique also shared techniques such as "tightlining" with water resistant eyeliner between the roots of the eyelashes to give the illusion of thicker lashes, and applying a fiber brow gel after brow pencil to bring the texture of the brow hairs to the forefront for a natural look on camera. Guests departed with two of the products that he used in the demonstration so that they could try the techniques at home: La Mer The Perfecting Treatment and TOM FORD Shade & Illuminate Cheeks.
ABOUT SHERBER+RAD
SHERBER+RAD (1101 15th Street NW, Suite 100, Washington, DC 20005), founded by Board certified dermatologist Dr. Noëlle Sherber and Board certified plastic surgeon Dr. Ariel Rad, delivers the best in aesthetic care and an experience of exquisite service and privacy. Drawing upon 30 combined years of training and expertise, Drs. Sherber and Rad help people to achieve balanced, age-appropriate, and natural results in the most time-efficient and nuanced manner possible. The SHERBER+RAD boutique highlights best-in-class skincare products from around the world that have been rigorously vetted and selected by Drs. Sherber and Rad based on science-backed ingredients, safety, and efficacy. World-renowned brands La Mer, TOM FORD Beauty, SK-II, Natura Bissé, and 3Lab, among others, are featured in the edited SHERBER+RAD boutique selections. Visit https://sherberandrad.com/ for more information.