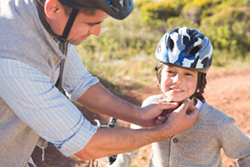 We at Lightning Labels offer many different ways to raise awareness of bike safety. Brands of all kinds can promote this important idea in ways that make sense to them.
Denver, CO. (PRWEB) May 23, 2017
Promote Safety on the Roads
Lightning Labels today announced the availability of custom labels to help promote bike safety. Biking is a great way to cut down on pollution, get more exercise and see a town or city from a whole new perspective. May, National Bike Month, is a special time of year for companies that sell products related to bikes and their riders. Companies can take advantage of this promotional opportunity to focus on specific elements of the bike-riding experience such as safety, and Lightning Labels can help.
All the precautions bike riders can take on the road are absolutely crucial. From wearing a helmet to carefully obeying the rules of the road and maintaining all equipment frequently, there are numerous steps that add up to make sure people reach their destinations safely. Businesses can also promote bike safety and awareness for drivers and pedestrians. The topic is essential and multi-faceted, and National Bike Month is the perfect time to bring it up.
Labels and Stickers
Manufacturers and sellers of protective gear such as bike helmets are perfectly placed to promote safety, both through warning labels that discuss the proper use and limitations of these products and custom stickers that people can take with them. Lightning Labels can deliver both custom stickers and labels, with a variety of materials and finishes available to ensure that brands get the kind of effect they are looking for.
Die-cut decals, bumper stickers and custom labels are available in many shapes, meaning that whether a brand is looking for labels to stick directly to its helmet products, stickers for the outside of packaging or stickers for cars or windows, they'll be able to find exactly the right fit. Promoting bike safety can go anywhere, and the more creative ways companies find of spreading awareness, the more chances this concept has to take root.
Bike safety is important all year long, meaning that projects started during National Bike Month can continue indefinitely. The fact that the month takes place at the beginning of the warmer seasons, with summer just around the corner, means it is ideally placed on the calendar - people will be taking their bikes out of storage and getting ready for a year of cycling.
"We at Lightning Labels offer many different ways to raise awareness of bike safety. Brands of all kinds can promote this important idea in ways that make sense to them," stated Lightning Labels Director of Business Development AnneMarie Campbell.
Bike Safety in Focus
Custom labels for helmets and other essential biking products will keep riders safer on the roads this and every year. Every little reminder of proper procedures, both among riders themselves and the drivers who will share the roads with them, can safeguard lives. Biking is fun and environmentally friendly, but all the enjoyment and convenience people take from it are wrapped up with safety.
Lightning Labels can facilitate brands' efforts to promote bike safety, both during National Bike Month and all year long. Companies that protect riders with thoughtful and timely stickers and labels, both on their products and as giveaways will show that they care and potentially deepen loyalty among customers.
About Lightning Labels:
Lightning Labels uses state-of-the-art printing technology to provide affordable, full-color custom labels and custom stickers of all shapes and sizes. From small orders for individuals to the bulk needs of big businesses, Lightning Labels is equipped to handle and fulfill custom label and sticker projects of all types. Best of all, like the name implies, Lightning Labels provides a quick turnaround for every customer's labeling needs. Uses for Lightning Labels' custom product labels and custom stickers include food packaging and organic food labels, wine and beverage labels, bath and body labels, and nutraceutical products, such as vitamins, essentials oils, and herbal remedies, as well as event stickers, adhesive window stickers and more. Lightning Labels strongly supports the development of environmentally friendly printing materials and carries EarthFirst PLA, a new kind of green label material made from corn instead of petroleum. While operating as a high-tech printer, Lightning Labels prides itself on its personalized customer service. Lightning Labels provides one stop shopping for all of your custom label needs. For more information and to place orders online, visit LightningLabels.com. For the latest in packaging news and labeling promotional offers, find Lightning Labels on Twitter (@LightningLabels), Facebook, Pinterest, Google+ and LinkedIn.