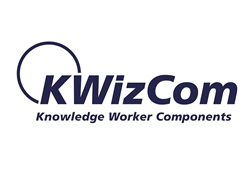 KWizCom focuses on providing small to medium businesses the required solutions for successful Office 365 deployment at reasonable prices
Toronto, ON (PRWEB) May 17, 2017
KWizCom, a leading developer of SharePoint Forms & Mobile Solution, as well as multiple other powerful SharePoint web parts, add-ons and apps for Office 365 (SharePoint Online) announced their plans to air a new webinar entitled "Boost Office 365 User-Satisfaction with No-Code Solutions."
If you have migrated to Office 365 and find many features missing, it is highly recommended for you to attend this online webinar offered by KWizCom. Convenient Forms, Document Scanning, Use-Case Automation (Workflows), Aggregation Capabilities, KPI's, Mobile are just some of the many common requirements by any company trying to implement its core business processes with Office 365.
"KWizCom focuses on providing small to medium businesses the required solution for successful Office 365 deployment at reasonable prices", advises Nimrod Geva, the Product Group Manager at KWizCom.
This live interactive online session that will be led by the company's Product Group Manager, Nimrod Geva includes an overview and live demos on how users can quickly and effortlessly address common business requirements by using KWizCom's add-ins for Office 365. The webinar will air live on Wednesday, June 7th at 2pm EST. The webinar recording will be available on demand within 1-2 business days.
To register for the above-mentioned webinar, please visit http://www.kwizcom.com/company/webinars/ .
For more information on KWizCom Corporation and the company's 60+ SharePoint add-ons and apps for Office 365, visit the company's website indicated below.
Follow KWizCom on Twitter @KWizCom
Become a fan of KWizCom on Facebook: www(dot)facebook(dot)com/KWizCom
Join KWizCom on LinkedIn www(dot)linkedin(dot)com/company/kwizcom
Contact a KWizCom Account Specialist at +1-905-370-0333/+1-855-KWIZCOM or info(at)kwizcom(dot)com
About KWizCom Corporation
Since 2005, KWizCom has provided innovative solutions and services to make SharePoint even better for over 7,000 companies worldwide. KWizCom's solutions and services expand Microsoft SharePoint out-of-the-box capabilities, streamline workflow, maximize efficiency and enhance over-all productivity for hundreds of thousands of users. KWizCom, a Gold Certified Microsoft Partner, is headquartered in Toronto, Canada. Please visit http://www.kwizcom.com to find out more about KWizCom's clients, people, partners and solutions.