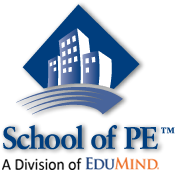 PE licensure is the mark of a professional and demonstrates a degree of competency, diligence and dedication.
Dublin, Ohio (PRWEB) May 24, 2017
School of PE is excited to announce Onsite engineering exam review courses in California and Texas and Live Online courses convenient for the Pacific and Mountain time zones.
School of PE, a division of EduMind, provides Fundamentals of Engineering (FE), Principles and Practice of Engineering (PE), Structural Engineering (SE) and surveying exam review courses. EduMind strives to provide lifelong learning opportunities through exam preparation and continuing education.
Starting with the fall 2017 exam review courses, School of PE will offer PE Civil exam review classes Onsite in Texas and California and Live Online at times that are convenient for people who live in the Pacific and Mountain time zones.
School of PE will continue to offer Live Online classes convenient for the Eastern time zone and Onsite classes for PE Civil review courses in several states on the East Coast and in the Midwest. The expansion shows School of PE's commitment to providing exceptional learning experiences to help engineers achieve career goals.
An Ondemand option is also available to help people prepare for their upcoming exam from any location and at a time that is convenient for them.
School of PE offers exam review courses to assist those taking the FE, PE and SE exams, which are administered by the National Council of Examiners for Engineering and Surveying (NCEES). Becoming a licensed professional engineer (PE) by NCEES is a very important step in an engineer's career.
Technically by law, people can only refer to themselves as engineers once they have a PE license. To obtain a PE, first taking the FE or Engineer in Training (EIT) exam is required. After passing the FE/EIT exam, one becomes an engineering intern (EI). Although the regulations in each state vary, a minimum of 4 years of working under a professional engineer is required before applying to sit for the PE exam.
Employers are very impressed by candidates with their PE license, and employers often choose to hire candidates who express their goal of obtaining a license.
"When we are hiring somebody and have two applicants of fairly equal qualifications, if one of them is an EI and one of them is not, the EI has already demonstrated their desire to head for professional registration to join the club to abide by the various regulations, and we hire them in a heartbeat over anyone who doesn't," said John Pepper, PE, President of PEGroup Consulting Engineers, Inc. "The FE examination is extremely important to PEs."
Many engineering positions require the candidate to be licensed. Even if some industries do not require employees to obtain their PE license, companies in these industries may request that their employees strive for a PE license.
"Why would these companies ask their people to become professional engineers?" asked Pepper. "It shows a higher level of qualification."
Not only does a PE license demonstrate a higher level of qualification, but it also shows great dedication to career development.
According to Anthony J. Florillo, PE, executive vice president of ECS Corporate Services, PE licensure "is the mark of a professional and demonstrates a degree of competency, diligence and dedication."
While becoming a professional engineer can help in the job search process, a PE license can also help candidates earn more money in those positions.
According to NCEES' website, "Salary studies show that as a P.E., you can expect to earn significantly more throughout your career."
To begin the journey toward becoming a licensed professional engineer, visit our website at http://www.schoolofpe.com to register for a FE, PE or SE exam review course today. Your success is our success!