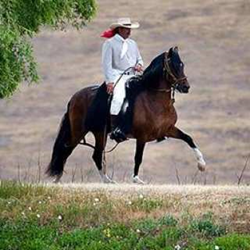 Duncan, OK (PRWEB) May 18, 2017
Cowboys up and down the historic Chisholm Trail would have appreciated the smooth ride of the Peruvian horse as locations south of Ft. Worth, TX to Abilene, KS are a long way to ride on a "boneshaker" or a trotting horse.
Did you know that prior to the seventeenth century most of the world's horses were naturally gaited? Horses that trotted were the exception and were considered suitable only as pack animals or mounts for servants. Since almost all traveling was done on horseback at that time and most people knew very little about riding, a smooth riding horse was a necessity.
Following the seventeenth century, the uses for trotting horses increased. Networks of roads were built, and people began to travel by horse-drawn vehicles rather than on horseback. Since a horse that trots is more suitable than a gaited horse for pulling a wheeled vehicle, the breeding of trotting horses increased. At about the same time, great expanses of land were devoted for the first time to ranching, and the horse took on importance as a tool for working cattle and taking them on cattle drives like those that happened on the historic Chisholm Trail. As the seventeenth century opened it was unusual to see a horse that trotted. When it closed it was unusual to see a horse that did not trot. It was one of the most unusual transformations that horse breeding has ever seen.
Even though the world's horsemen moved from naturally gaited horses to trotting horses, Peruvians continued to breed their naturally gaited "Caballo Peruano de Paso." Every purebred Peruvian horse has a "champagne" gait, which is the trademark of the breed. Thanks to its unique, inborn, four-beat lateral gait, the Peruvian is the smoothest riding horse in the world. He is also considered one of the showiest of all horse breeds because of an inner pride and energy that make him travel with a style and carriage as if always "on parade". His temperament is one of the world's best, thanks to a long standing practice of not breeding animals that have an unsuitable disposition. In addition, the Peruvian is the only horse in the world with "termino", a graceful, flowing movement in which the forelegs are rolled towards the outside as the horse strides forward, much like the arm motion of a swimmer. "Termino" is a spectacular and beautiful natural action that must be seen to be appreciated. The gaits can be as slow as a walk or as fast as an extended trot or slow canter. Both the gait and the flashy leg action are completely natural. They are not induced or aided in any way by artificial training or devices. In fact, both in Peru and the United States, Peruvian horses are shown without shoes in a short, natural hoof.
You'll get the chance to see these beautiful animals during the Sooner State & Camino Real Double Show on May 26-28 at the Stephens County Fair and Expo Center. Admission is free to attend.
For more information, contact the Duncan Convention and Visitors Bureau at 1-800-782-7167 or tourism(at)simmonscenter(dot)com or by visiting http://www.visitduncan.org.