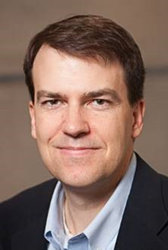 Salt Lake City, Utah (PRWEB) May 18, 2017
Jon Pexton, Chief Financial Officer of Progrexion, was selected to receive CFO of the Year among 218 CFOs by Utah Technology Council (UTC). Pexton was honored at an awards luncheon held at the Hilton Salt Lake City Center on Tuesday, May 9.
Pexton is a University of Utah graduate and a finance expert with more than 20 years of progressive and wide-ranging finance and accounting experience. Pexton's strategic and results oriented mindset has helped the company more than triple in size and enhance the corporate culture. The company now employs more than 2,000 people at nine locations in four states. He joined Progrexion in 2011, with more than eight years of experience with EY, a "Big Four" accounting firm, and more than 10 years in senior level financial positions at technology companies in the San Francisco Bay Area and Salt Lake City.
"I'm honored to be recognized as CFO of the Year," said Pexton. "It has been an extraordinary time to work for Progrexion and I'm happy to be part of the growth. I'm also thrilled to be part of UTC. It's a wonderful forward-thinking organization that has elevated the tech industry here in Utah."
Pexton was honored by Utah Business Magazine as CXO of the Year in 2009 for his work at Interbank FX (his previous employer) and in 2015 for his work at Progrexion.
"Jon's vast experience in capital structures, debt offerings and maximizing shareholder value, as well as his ability to execute strategy, has helped Progrexion expand into new markets," said Jeff Johnson, Progrexion CEO. "During his tenure with the company, Jon has been involved in managing numerous capital market transactions. Jon is results-oriented and focused on driving and improving the business through sound data analysis and an understanding of where the company is going, supporting our rapid growth."
###
About Progrexion
Progrexion is a leading provider of credit report repair services in the United States. Progrexion's technology and services help consumers access and understand information contained in their credit reports, verify whether that information is fair, accurate and substantiated, and correct inaccuracies with individual creditors, other data furnishers and the national credit bureaus. Progrexion technology and services are used by Lexington Law Firm and by CreditRepair.com, a Progrexion subsidiary. Progrexion was named by Utah Business Magazine as one of Utah's top 50 fastest growing companies. If you are interested in working for this great company, please visit http://www.progrexion.com/careers.
About Utah Technology Council
Utah Technology Council gives an influential, unified voice to the state's 6,000 technology businesses and marshals support from government, education and community leaders. UTC's top priorities are: expanding the talent pipeline for high tech positions, enhancing the business climate in Utah, and fostering innovation within Utah technology companies. Visit http://www.utahtech.org.