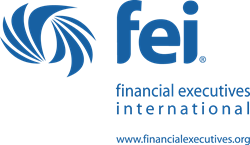 "Technology will always be the force of change in business and in our personal lives," said Andrej Suskavcevic, CAE, President and CEO of FEI
Morristown, N.J and Minneapolis, M.N. (PRWEB) May 18, 2017
Financial Executives International (FEI), the association of choice for CFOs and other senior-level financial executives today announced that it is joining with FEI's Twin Cities Chapter to host a conference on emerging technologies in the financial suite.
The conference, titled "The Future of Financial Technology" will be held on June 15 at the Renaissance Minneapolis Hotel in Minneapolis and will bring financial executives including CFOs, controllers, corporate treasurers and others together with leaders in financial technology. Individual sessions will help financial executives determine how to use existing and forthcoming technologies to streamline business functions, understand the impact of these technologies on finance, and gain insight into audit innovation. Key technologies addressed include artificial intelligence, blockchain and data analytics.
Some of the speakers include:

Christopher Yamashita, Director of Business Architecture, World Wide Enterprise and Partner Group, Microsoft
John E. Van Decker, Vice President, Corporate Performance and Financial Management Systems, Gartner
Chris Stevenson, Marketing Manager for IBM Planning Analytics
Ron Quaranta, Chairman, Wall Street Blockchain Alliance
Melissa Krasnow, Partner at VLP Law Group
Michael Krause, Special Agent with the Federal Bureau of Investigation
Mike Sellberg Executive Vice President and Chief Product Officer at Workiva
A complete list of speakers can be found on the conference website.
"Technology will always be the force of change in business and in our personal lives," said Andrej Suskavcevic, CAE, President and CEO of FEI. "We thank our Twin Cities chapter for creating a forum for financial executives to discuss how blockbuster technologies can move past the headlines and impact their businesses and help them modernize how they perform in their mission-critical roles."
Conference sessions will explore Gartner's top 10 strategic technology trends, collaborative work management, understanding blockchain, agile planning and analytics for finance, and finance in the age of machine learning, and more.
The Future of Financial Technology conference begins on June 15 at 7:45 a.m. with registration and breakfast. The last session concludes at 5:00 pm. Networking sessions and lunch are included. Attendees can earn up to eight CPE credits.
To register for FEI's Future of Financial Technology conference, please visit the conference website,
or http://www.financialexecutives.org/event, or contact FEI's Professional Development department at 973.765.1099.
Sessions are open to members of the media. RSVP to fei(at)crimsoncom(dot)com.
About FEI
Financial Executives International (FEI) is the leading advocate for the views of corporate financial management. Its more than 10,000 members hold policy-making positions as chief financial officers, treasurers and controllers at companies from every major industry. FEI enhances member professional development through peer networking, career management services, conferences, research and publications. Members participate in the activities of more than 65 chapters in the U.S. and a chapter in Japan. FEI is located in Morristown, NJ, and Washington, D.C. Visit http://www.financialexecutives.org for more information.