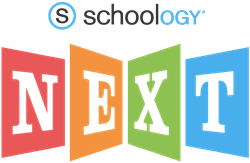 At Schoology NEXT, attendees have the power to choose the path that works best for them.
New York (PRWEB) May 18, 2017
Schoology, the leader in learning management systems (LMS) for education, announced today the release of session details, keynote speakers and additional sponsors to Schoology NEXT, the company's fourth annual user conference. Users attending the conference can now customize their schedules for the event to take place July 24-26 at McCormick Place in Chicago.
"At Schoology NEXT, attendees have the power to choose the path that works best for them," said Jeremy Friedman, CEO and Co-Founder of Schoology. "This year's event will be the biggest and best yet, offering a wide variety of user-driven breakouts to advance each attendee's professional skillset."
The breakout sessions have been published to the conference website. Attendees can begin personalizing their schedules from more than 100 unique sessions, the majority of which are presented by Schoology users. Session speakers include Schoology users from Saint Paul Public Schools, Colorado Digital BOCES, Palo Alto Unified School District, West Clermont Local School District, Neenah Joint School District and Wheaton College.
Alongside the session breakout information, Schoology also announced the first round of keynote sessions. Keynotes are intended to provide attendees with a broader perspective of the market and Schoology's view on the future role of technology in education. Keynote speakers include Schoology CEO and Co-Founder, Jeremy Friedman, noted public school educator, author and speaker, Jennie Magiera, CEO and Co-Founder of CK-12 Foundation, Neeru Khosla and VP of Learning Innovation at SAFARI Montage, Dr. Tim Clark.
"I'm so excited to head back to Schoology NEXT for another year," said Erin Schiller, Instructional Excellence Coordinator for Eden Prairie Schools in Minnesota. "You can connect and collaborate with fellow Schoology educators and leaders, you can explore new and innovative ways that Schoology is empowering the learners of tomorrow, and you can build up your understanding of the in's and out's of Schoology and the power it has for accessing learning and collaboration anytime and anywhere."
Amazon Web Services (AWS), CK-12 Foundation, SAFARI Montage, BrainPOP, EdCaliber and ArtsAnywhere join previously announced Respondus, Turnitin, WIRIS, Blindside Networks and PlayPosit as Schoology NEXT sponsors.
"We are excited to participate in Schoology NEXT", said Andrew Schlessinger CEO and Co-Founder of SAFARI Montage. "The event provides us with a unique opportunity to demonstrate the instructional value of how the integration of SAFARI Montage and Schoology effectively supports educators in curating and accessing the right content necessary for designing digital lessons."
To learn more about Schoology, please visit https://www.schoology.com.
Education professionals interested in attending Schoology NEXT can register today at https://www.schoologynext.com/register.
About Schoology
Schoology is putting collaboration at the heart of the learning experience with an easy-to-use learning management system (LMS) that connects the people, content and systems that fuel education. Millions of students, faculty and administrators from over 60,000 K-12 schools and higher education institutions worldwide use Schoology to advance what is possible in education. Find us at http://www.schoology.com, follow us on Twitter, or join us on Facebook.