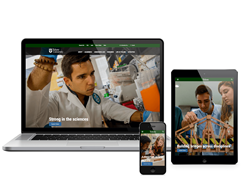 Chicago, IL (PRWEB) May 18, 2017
The 23rd annual Communicator Awards honors mStoner, Inc. — a digital-first agency working with education institutions — with one Award of Excellence and three Awards of Distinction.
With more than 6,000 entries received from across the United States and around the world, the Communicator Awards is one of the largest and most competitive awards programs honoring creative excellence for communications professionals.
The mStoner team is thrilled to share the following results:
AWARD OF EXCELLENCE
Tulane University
The Tulane web team had the buy-in of senior leadership and the campus community for a new website, but they needed a data-driven, comprehensive strategy for how to go about it. The finished site makes a strong visual impact, prominently highlights Tulane's research, conveys the rich culture of its New Orleans campus, and offers visitors a streamlined navigation.
AWARD OF DISTINCTION
Saint Louis University
According to SLU, a top 100 research university, "Discoveries — big and small — happen here every day." Sharing those discoveries in an engaging way with prospective students was the main priority for Vice President of Marketing and Communications Jeff Fowler in relaunching slu.edu. The project also focused on changing the entire university's approach to its web presence and including all units in the rollout of a modern, competitive, and beautiful new site.
Rush University
Rush needed to successfully merge four medical and nursing colleges under a new brand and web strategy that reflected the university's prominence in health science education. A clean IA scaled the 20,000 assets down to 500, with no legacy pages left over. The entire site is lean, updated, and scaled to a size the current staff can manage.
University of Rochester School of Nursing
The School of Nursing needed a better understanding of what motivates prospective students and a strategy to attract more right-fit students to apply to the school's varied nursing programs. Launched in September 2016, the new, vibrant website showcases the school's research, faculty, and students in one consistent voice and tone that's a model for presenting nursing as a collaborative continuum.
About mStoner, Inc.
mStoner, Inc. is a digital-first agency committed to tailored solutions that deliver real results. We help clients tell their authentic stories by clarifying their unique brand value proposition, creating a content strategy to communicate the brand effectively, and implementing compelling and dynamic communications across the web, mobile, social media, print, and other channels. We focus on research, data, and results. Since 2001, we've worked with more than 350 colleges, universities, and professional schools in the U.S. and abroad. Visit mstoner.com to learn more.