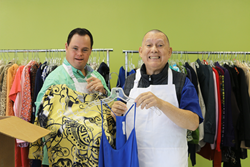 By shopping at TERI Inspired Resale, you help yourself and someone else.
Oceanside, CA (PRWEB) May 18, 2017
There's a new hot spot to shop in Oceanside. Doors to the new TERI Inspired Resale boutique swung open May 5 with a steady stream of eager shoppers since.
Formerly known for 20 years as "Potpourri Resale", the new store is located at 3772 Mission Ave., Suite 125 in Oceanside, offering a wide range of new and gently-used clothing, furniture, and home accessories.
"I encourage everyone to stop by and see all that we have at our new location," said store manager Lois Ruiz. "Many things are better than new because they represent a level of quality and craftsmanship that's rarely seen these days.
"Whether you need a houseful of furniture or a lamp with just the right look, there's a good chance we have it," said Ruiz. "And our clothing covers an amazing range of fashion styles, from California casual to business attire."
What many new and long-time customers find out when they purchase is this store is actually a social enterprise helping the community in many ways. "Your purchase is also an investment in the lives of the children and adults with autism and other developmental disabilities who we serve at TERI," said TERI Inc. founder and CEO Cheryl Kilmer. "The store is both a community resource and a vocational training site. Proceeds from the store help fund our many life-changing programs that serve people from all over the San Diego region and beyond."
"By shopping at TERI Inspired Resale, you help yourself and someone else. It's a way of doubling the purchasing power of your money," said Kilmer.
TERI Inspired Resale has something that will work for your home, apartment, or wardrobe. Donations of fine goods, volunteers, and the vocational trainees with special needs from TERI allow their extensive product selection to change weekly.
Store hours are 10 a.m. to 7 p.m. Monday to Saturday, and 11-6 on Sunday. For more information, the store's number is 760-722-1880, the website is http://www.shop.teriinc.org.