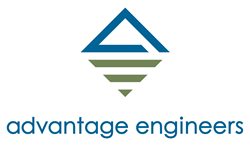 This is a very talented and diverse team of technical experts...
Pittsburgh, PA (PRWEB) May 25, 2017
Advantage Engineers, a leading provider of specialized engineering services, is proud to announce Ron Carrola, P.E. has joined the firm as a Department Manager and will lead the Geotechnical Design and Construction-Phase Observation and Testing operations in the Pittsburgh metropolitan market. Mr. Carrola's hiring is a part of the firm's strategy to advance the geotechnical service line across the mid-Atlantic region of the United States.
"I am truly grateful for the opportunity to join the Advantage team," said Mr. Carrola. "This is a very talented and diverse team of technical experts and I look forward to working with them and growing our presence across western Pennsylvania, Ohio, and West Virginia."
Prior to his role with Advantage, Mr. Carrola served as Manager for Engineering for a regional engineering firm located in Pittsburgh, Pennsylvania. While there, he provided senior oversight and management of the firm's geotechnical engineering practice and was active in supporting the construction materials testing practice. Mr. Carrola has over 25 years of experience and an extensive background in scoping and executing engineering, construction observation, and materials testing projects throughout the Pittsburgh metro area across a broad range of project types. He holds a Bachelor of Science in Civil Engineering from the University of Pittsburgh.
"We are excited to have Ron on board with the rest of the team," said Dan Schauble, Advantage's Geotechnical Division Director. "Ron's expertise and local market knowledge further enhance the capabilities of our established team and will accelerate the growth and development of the geotechnical division throughout western Pennsylvania, Ohio, and West Virginia."
About Advantage Engineers:
Advantage Engineers provides comprehensive services in specialized fields of engineering and consulting. The firm has more than 200 technical professionals, including engineers, project and program managers, site acquisition specialists, geologists, scientists and dedicated support staff. From nine offices, Advantage Engineers provides services throughout the U.S. and the firm is highly sought after by clients in a variety of industry sectors including: geotechnical, environmental, and telecommunications engineering.
Founded in 2001, Advantage Engineers' service portfolio and repeat business growth are testament to the outstanding level of technical expertise, ingenuity and reliability provided. The firm has successfully completed thousands of projects in a variety of markets including commercial, energy, industrial, institutional, telecommunications, transportation and utilities. This vast experience bundled with unmatched responsiveness positions Advantage Engineers as a top ranked engineering firm. Visit http://www.advantageengineers.com for more information.