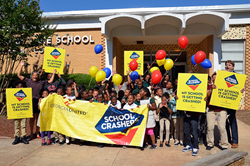 With a high homeless population attending, our goal this year will be to improve the overall look and feel of the school to help improve all students' educational experience and distinguish the learning environment as a safe and happy place for students
Decatur, GA (PRWEB) May 18, 2017
Georgia United Credit Union is excited to announce the winners of its 4th Annual School Crashers program. This year's top recipient, Canby Lane Elementary School of Decatur, was nominated by current Assistant Principal Kia Dennis. Seven schools across the state were chosen as the lucky recipients of a school makeover from among the 330 nominations received.
Located at 4150 Green Hawk Drive, Canby Lane was originally built in the 1960s and is in need of multiple facility improvements both inside and out. The School Crashers makeover is scheduled for Friday, July 21 and Saturday, July 22, to complete the project before the new school year in August.
"Canby Lane submitted a compelling entry with multiple areas for improvement. With a high homeless population attending, our goal this year will be to improve the overall look and feel of the school to help improve all students' educational experience and distinguish the learning environment as a safe and happy place for students," said Shawn Turpin, Senior Vice President of Sales & Service for Georgia United Credit Union. "Our School Crashers program could make a huge difference for their 740 students."
Congratulations to all of our 2017 School Crashers recipients!

Canby Lane Elementary, 740 students, Decatur- GA, Multiple facility improvements and new carpet
Eagle Woods Academy, 100 students, Lithonia- GA, Therapeutic Garden
Shiloh Middle School, 1829 students, Snellville- GA, Courtyard and classroom improvements
Colbert Elementary, 419 students, Colbert- GA, Facility and playground upgrades
East Laurens Primary, 580 students, East Dublin- GA, Playground enhancements
Fairington Elementary, 700 students, Lithonia- GA, Media Center improvements and carpet replacement
Pleasant Grove Elem, 445 students, Dalton- GA, Technology upgrades and new carpet
"Georgia United will work with these schools over the summer to complete their requested improvement projects," says Turpin. "There will be opportunities for community members, educators, parents and students to join Georgia United team members to volunteer for all these School Crashers program events."
Visit gucu.org/schoolcrashers to learn more about volunteering or donating supplies after June 1.
Georgia United's School Crasher program is a unique program that offers local schools the opportunity to apply for a facility makeover. The goal of the program is to bring communities together to support local schools and their school systems. Accredited K-12 schools in Georgia were eligible to submit a photo and a 250-word statement explaining why their school should receive a makeover.
About Georgia United Credit Union
Georgia United Credit Union is ranked as one of the top credit unions in Georgia in both size and safety at over $1 Billion in assets, more than 150,000 members and 19 branch locations. Georgia United seeks to make members' lives easier by offering products, services and education to help members meet their needs and achieve their goals.
Georgia United Credit Union serves the Archdiocese of Atlanta, State Agency employees, Board of Regents colleges and universities, and 11 county school systems. Visit gucu.org to learn more or follow the credit union on Facebook at facebook.com/GeorgiaUnitedCU and Twitter at @GAUnitedCU.