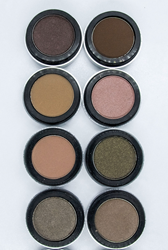 "The eyes are the window to the soul so it was important to me to create eyeshadows that would emphasize and enhance the natural beauty of the eyes."
San Francisco, CA (PRWEB) May 19, 2017
Pretty Girl Makeup, a cosmetic company that specializes in all natural cosmetics, today released its highly anticipated "Everlasting Eyeshadow Collection." The collection is Pretty Girl's very first eyeshadow line, following a recently launched lipstick collection back in February. The collection features 8 multipurpose eyeshadows that can be used traditionally as well as to line eyes or to fill in brows.
"The eyes are the window to the soul so it was important to me to create eyeshadows that would emphasize and enhance the natural beauty of the eyes" said Christina Flach, Founder and CEO of Pretty Girl Makeup. "The collection is designed with luscious colors for a magnitude of combinations that can take you from a day to night look or a mom to red carpet look depending on what you need."
The new collection will feature 8 eyeshadows, including:
Look Into My Eyes – Enchanting charcoal
One Last Kiss – Chestnut matte
Wordless I Love You's – Champagne frost
His Heart Belongs to Me – Deep brown
Watching You Dream – Brown/black
Stand With Me – Midnight black
Stars on the Water – Velvet shimmer
Seaglass – Creamy beige
"The colors in this collection are natural so that your eyes can be adored for their authentic beauty rather than being buried in makeup. Whether you're ready for a shimmery look or a smokey eye, we've got you covered with this collection" said Flach. "I handpicked each color and name like I do with all collections because I want each product to feel special for Pretty Girl clients."
This is Pretty Girl's second cosmetic collection to launch in the last few months, marking their continuous expanding line. The company is also planning to add in more collections this summer including blush and shimmer. The "Everlasting Eyeshadow Collection" is available as of today on their website. For more information on Pretty Girl Makeup please visit, https://prettygirlmakeup.com.
About Pretty Girl Makeup:
Pretty Girl Makeup is a cosmetic company that specializes in natural, long-lasting products for girls on the go. Founded in 1999 by celebrity makeup artist Christina Flach, Pretty Girl Makeup mixes fantasy with a bit of luxury by combining vitamins, minerals and essential oils. The company focuses on high-quality makeup that not only looks good but also feels good on skin. For more information, please visit, http://www.prettygirlmakeup.com.