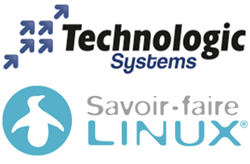 Savoir-Faire Linux works seamlessly to bring the customers vision to life and bring the most out of our hardware in the process.
Fountain Hills, AZ and Montreal, Quebec (PRWEB) May 18, 2017
Today marks the signing of the Memorandum of Understanding (MoU) between Technologic Systems and Savoir-faire Linux Inc., on a wide range of key technological and marketing initiatives. Technologic Systems, the longtime manufacturer of industrial grade single board computers, computer on modules, and touch panel computers have officially announced the partnership with Savoir-faire Linux, the leading open source software expert in Canada. Both firms have been long collaborating together to offer a whole value chain solution to their clients.
The indispensable symbiosis between hardware and software solutions in the digital economy is the main driver of their co-creations and technological collaborations. Having been successful in increasing their end-users' satisfaction and operational performance, both companies now want to become more strategically engaged to even further augment the industry standards.
For almost two decades, Savoir-faire Linux has been able to constantly create and share open source software knowledge through consultancy, design, architecture, and maintenance of a variety of information systems in the North American and European markets. The company is well-known positioned for developing reliable and supported open source-based software solutions and has already forged strategic partnership with major open source players such as Red Hat, Liferay, Debian, Linux Kernel, Odoo and FFmpeg, to name a few. Being embedded in free/libre and open source communities such as Linux Kernel, Debian, FFmpeg etc., the company knows the 'ins and outs' of many key open source technologies; and therefore is able to guarantee software stability and performance at a level unmatched by its competitors.
"We have been forging a long term relationship with Technologic Systems for they have been manufacturing high quality, industrial grade embedded hardware products that have proven reliable for more than three decades. At Savoir-faire Linux, we have been developing many software projects with numerous clients across a diverse range of hardware manufactured by Technologic Systems. For such a long time, we have relied on Technologic Systems not only because they have a highly responsive and professional team, ready to explain and share details of their products to ensure smooth software development and effective platform integration operations, but also because they are a wonderful development partner. In fact, when clients need a robust embedded device, particularly for industrial applications, Technologic Systems' hardware is our first recommendation. It has superb quality. It has long-term lifecycle support. Most important of all, it is the kind of hardware that delivers on legacy exceptions such as running on low-power and remaining stable with broad peripheral and connectivity options." said Jérôme Oufella, Vice President of Technologies at Savoir-faire Linux.
For 33 years, Technologic Systems (Arizona, USA) has been creating world class embedded systems in order to address a wide range of industrial needs. Technologic Systems has hundreds of commercial off the shelf products, and the ability to modify existing solutions, or design a completely custom embedded computer to meet and exceed customer requirements. A wide range of out-of-the-box Linux tools come to aide Technologic Systems' vision of creating the whole customer solutions. Linux OS, Debian, Ubuntu Core and many more open source software platforms are strategically deployed on a wide range of embedded system to cater to the customer's particular application and requirements.
Robert Miller, founder of Technologic Systems said, "Since we provide embedded hardware for multiple industries and verticals it would be almost impossible for us to provide application level support to all of our customers. Savoir-faire Linux is a fantastic partner in this regard as they are well suited to handle a variety of projects across a multitude of platforms.  Savoir-Faire Linux works seamlessly with to bring the customers vision to life and bring the most out of our hardware in the process. They have consistently been great to work with at every level of engagement and we recommend them highly and easily knowing that our customers will be in good hands and we will be well represented by Savoir-faire Linux."
Thus, both companies together make a great match that ultimately benefit their end-users through having an access to a whole hardware-software solution that exceeds industry standards concerning performance, quality, reliability and continuous after sales support. This partnership is set to grow and mature into more technologically advanced collaborative R&D teams, and expanding each one's market reach in both Canada and the USA.
About Savoir-Faire Linux
Since 1999, Savoir-faire Linux has developed a unique expertise in Free and Open Source Software, helping Canadian companies and public organizations meet the challenges of information systems in constant evolution. With a multidisciplinary team of nearly 120 consultants (in 2015) based in Montreal, Quebec City, Toronto, and Paris, Savoir-faire Linux delivers services to over 500 organizations, including government bodies, major international agencies, industry giants, and SMEs/ SMIs. This great ISO 9001 and ISO 14001 certified company is a proud Silver member of the Linux Foundation, a Liferay Platinum Partner and a Red Hat Advanced Partner. It has also a strong presence in many Free Software communities.
Savoir-Faire Linux
7275 Saint Urbain Street
Office 200
Montreal (Quebec) H2R 2Y5
http://www.savoirfairelinux.com
Amir Taherizadeh (Marketing Dept.)
Tel: 514-276-5468
Fax: 514-276-5465
About Technologic Systems
Technologic Systems has been in business for 32 years, helping more than 8000 OEM customers and building over a hundred COTS products that have never been discontinued. Our commitment to excellent products, low prices, and exceptional customer support has allowed our business to flourish in a very competitive marketplace. We offer a wide variety of single board computers, computer-on-modules, touch panel PCs, PC/104 and other peripherals, and industrial controllers that satisfy most embedded project requirements. We also offer custom configurations and design services. We specialize in the ARM and X86 architectures, FPGA customization, and open-source software support, providing advanced custom solutions using hardware-software co-design strategies.
Technologic Systems
16525 East Laser Drive
Fountain Hills, AZ
85268
http://www.embeddedARM.com
(480)837-5200