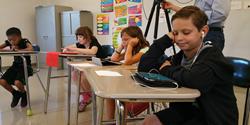 With Learning Ally we are able to help students with disabilities read at or above grade level, develop their confidence and take ownership of their learning.
Princeton, NJ (PRWEB) May 18, 2017
Learning Ally, a nonprofit providing educational technology and support for students who struggle with reading, has introduced groundbreaking enhancements to its award-winning audiobook solution.
In response to extensive requests from educators, Learning Ally has integrated Lexile® information into the search and book details feature of its cloud-based library of 82,000 audio textbooks and literature titles. This new feature enables teachers to easily assign content best suited for each student's individual learning style and capabilities, as well as track their students' progress – all on one efficient website platform.
"Integrating Lexile information into our library is one of the key measures we're taking to arm teachers with effective learning tools and help them close the literacy gap nation-wide," says Andrew Friedman, President and CEO of Learning Ally. "The National Assessment for Educational Progress (NAEP) highlights the issues we're working with teachers to address: nearly two thirds of students across the U.S. score as 'not proficient' in reading at grade level – and one in five lack even 'basic' reading skills for their grade level."
"Teachers have shown us that Lexile information is a proven tool that saves them time while strengthening their ability to help students grow as readers," Friedman continues. "As they integrate Lexiles across core curricula and beyond, teachers discover that students can listen at a much higher comprehension level than their decoding levels, and change their trajectory from struggling readers to engaged, active learners."
"We recognize that so many of our students' decoding abilities are not reflective of their true reading comprehension levels and potential," says Jenny Smithson, Director of Academic Programs at the Alexandria Community School Corporation. "I have seen students' reading levels grow and their comprehension improve by 30 percent or more with Learning Ally being their only reading intervention."
"Students who would not have been able to earn a diploma before are now in general education classrooms learning along with their peers," Smithson adds. "Grades have gone up and participation has improved. With Learning Ally, we are able to help students with disabilities read at or above grade level, develop their confidence and take ownership of their learning."
To schedule a review, or to speak with an educator using the program, contact media(at)learningally(dot)org. To learn how to bring Learning Ally to your school district, contact programs(at)LearningAlly(dot)org, call 800.221.1098 or visit http://www.LearningAlly.org/Educators.
ABOUT LEARNING ALLY
Learning Ally is a national nonprofit education technology organization, supporting over 300,000 struggling readers who have print disabilities and learning differences. Learning Ally's cloud-based collection of 82,000 human-narrated audio textbooks and literature aligns with K-12 core curricular needs of schools and can be accessed easily by students in the classroom or at home. Through its extensive teacher resources and student progress monitoring platform, Learning Ally enables learners of all ages to thrive and succeed.
As a 501(c)3 nonprofit, Learning Ally is partially funded by grants from state and local education programs, and the generous contributions of individuals, foundations and corporations. For more information, visit LearningAlly.org.