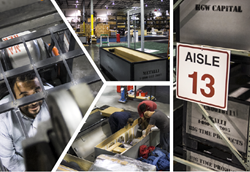 As Melendez explains, "With EMP, clients can rely on our team as a resource to manage, track, assess, repair, refurbish, inventory, catalogue, ship, I&D (installation and dismantle) and store trade show exhibits and related assets."
Dallas, Texas (PRWEB) May 18, 2017
The Trade Group has been providing exhibit management services for decades. Mark Melendez manages their Exhibit Management Program (EMP), and he works tirelessly to continually enhance the program to serve his clients' every need.
According to Melendez, "Our President, Chris Stone, tasked me with transforming EMP into a white glove service for trade show managers and event planners. The new tools and services we have added to the program in recent years were designed with that goal in mind."
Company growth necessitated changes to the program. "The Trade Group has grown substantially as it has taken on more larger, custom-built trade show exhibits. So we are storing and managing more 40'x40' and larger exhibits than ever before.
"We had to make changes to EMP to address the unique needs of these clients and all of the moving pieces involved with their trade show and event programs," explains Melendez.
What is EMP and how does it work?
EMP is a dedicated trade show and event management program designed to support all of The Trade Group's client needs. The mission of EMP is to transform exhibit management from a cumbersome process to a turnkey solution.
As Melendez explains, "With EMP, clients can rely on our team as a resource to manage, track, assess, repair, refurbish, inventory, catalogue, ship, I&D (installation and dismantle) and store trade show exhibits and related assets."
The EMP team leaves no stone unturned when it comes to ensuring client trade show exhibits are "show ready" for every event. Every exhibit in the EMP program is inspected when it returns to the TTG warehouse to find out if all components and parts that shipped out have been returned in working order.
Missing parts, damage and recommendations for repair, replacement or refurbishment are then communicated to the client in a post-show inventory and inspection report.
Melendez and his team of Project Managers also recommend upgrades and/or improvements to client exhibits and assets as design and technology enhancements evolve. "For example, we may recommend a client replace halogen lighting with LED lights to save energy costs and to achieve a more modern look."
What enhancements have been made during EMP's overhaul?
1. NEW EMP Connect App and online asset management tool: The former EMP Online is going through a major software facelift. EMP clients can now log in to the NEW EMP Connect using an app on their smartphones and tablets. Clients can also connect with the system – and with The Trade Group – through a laptop or PC.
Clients can use EMP Connect to monitor and manage their exhibit assets anywhere across the globe 24/7. Login to easily schedule an event, order replacement items, review or track trade show assets and more.
2. EMP Store fulfillment center: Melendez and team launched the EMP Store in late 2015. The EMP Store is a fulfillment center operating onsite at The Trade Group. At the EMP Store, they can store, manage, track, ship and replenish a client's trade show collateral and promotional items.
The EMP Store helps clients avoid waste and save time and money. Melendez developed a system where every item is assigned a unique SKU, so his team can catalogue and store the items until they are ready to ship. Clients will be able to easily check stock levels via EMP Connect, which displays photos and quantities of each item. They can even order new promotional products and sales collateral.
3. Expanded warehouse space: The Trade Group's EMP warehouse has been expanded from 4,000 sq. ft. to nearly 40,000 sq. ft. to accommodate the 270 and growing roster of EMP clients. According to Melendez, "We needed more space to breathe, not only to handle the needs of our larger clients, but to accommodate growth in the printing, production, retail interior and commercial graphics departments, too."
4. Dedicated EMP team members: To better serve EMP clients, Melendez has added two new Project Managers to his team. In the past, clients would communicate with their sales rep if they had questions about EMP or say, when they could expect delivery of their exhibit to a certain show.
"Now each client is assigned a dedicated EMP Project Manager they can tap as an additional resource. This added layer of customer service and attention is essential to the white glove service model available through EMP," explains Melendez.
5. Preferred Vendor Partners in the field: While The Trade Group regularly provides at-show support to their trade show clients, they do not travel to every single trade show. They do, however, partner with multiple Industry Leaders for labor, logistics and other needs to support their clients and report back from the field.
As Melendez explains, "It's important for us to have visibility with our clients, even when we're not at an event. For example, we've been working with one of our Preferred Labor Partners for the past 15 years. We rely on them to support I&D needs, inspect client exhibits, take photos of the install and report back to us. This helps ensure the client receives optimum service and support."
Want to learn more about EMP, EMP Connect or the EMP Store?
Give The Trade Group a call at 800-343-2005 to speak with the EMP team or one of their friendly sales reps to find out more.
About The Trade Group
The Trade Group is a full-service, award-winning provider of products and services for trade shows, corporate events, retail environments and an endless array of face-to-face experiences. The organization helps clients share their unique stories through a comprehensive suite of solutions that includes: exhibit design and fabrication, graphic design and production, exhibit management, digital applications, video production, exhibit accessories, strategic marketing and more.