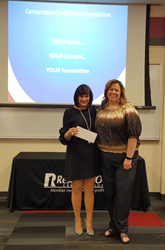 Dallas, TX (PRWEB) May 19, 2017
Resource One Credit Union celebrated financial literacy month by participating in a donation campaign. Resource One Credit Union collected over $646 during the 10 day donation period by hosting a Penny War Challenge. Resource One donated all of the proceeds collected to support the Cornerstone Credit Union Foundation.
The goal of a Penny War is to collect only pennies in your own jar and put non pennies in everyone else jar. Pennies collect a positive value while silver collects a negative value. The group with the highest positive value wins.
Cornerstone Credit Union Foundation is a public charity whose mission is to empower people to improve their financial well-being. Resource One helps support the Foundation in order to promote the credit union philosophy of people helping people obtain financial independence by supporting financial education initiatives, professional development of credit union staff and volunteers, and disaster relied support for credit union communities.
About Resource One Credit Union
Resource One Credit Union was originally chartered as Sears Dallas Employees Federal Credit Union in 1936. Over time, the increased demand for more locations and additional products and services prompted the expansion of our product lines and field of membership. Today Resource One proudly serves as a not-for-profit financial institution for the communities of Dallas and Harris counties. Resource One has 11 convenient locations to serve our over 55,000 members. Visit Resource One Credit Union's homepage at http://www.r1cu.org.