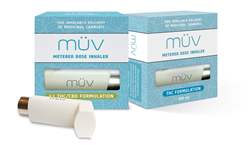 Our experience and continued expansion into established legal medical cannabis states, like Colorado, make us uniquely qualified to offer meaningful therapies for Florida patients
Sarasota, Fla. (PRWEB) May 18, 2017
AltMed Enterprises (AME) and Wana Brands announce the completion of licensing deals to bring AME's award winning MϋV™ line of medical cannabis infused products to the Colorado market and Wana Brands' top selling edibles to the Arizona market. A licensing agreement between NuTrae, LLC doing business as MüV (a subsidiary of AME) and Wana Brands opens the door to MüV products becoming available in Colorado.
Award winning MϋV products are anticipated to be available in Colorado by Q4 2017 and Wana Brands' popular cannabis-infused products are anticipated to be available in Arizona by Q4 2017.
"We have adopted a professional and scientific approach to the production of the highest quality medical cannabis products," said AME CEO Michael Smullen. "All our products are tested using methods from the American Herbal Pharmacopeia that exceed even the rigorous testing specifications established by more mature markets like Colorado. We are very excited to bring our high quality medical cannabis products to the patients of Colorado and further our mission to become the world's leading medical cannabis brand through a licensing deal with a company like Wana Brands that shares our values in delivering only the highest quality products."
AME's Arizona operations helped perfect its business model, products and processes. AME seeks an opportunity to bring its world-class standards and proven qualifications back home to Florida to serve the patients of Florida under Amendment 2 (the FL Medical Marijuana Legalization Initiative).
"We have spent the last two years bringing our pharmaceutical industry scientific standards to the development and testing of our products to create the purest and most reliable products in Arizona," said Smullen. "This experience combined with our continued expansion into established legal medical cannabis states, like Colorado, make us uniquely qualified to offer meaningful therapies for Florida patients."
The MüV brand is fast becoming one of the world's widest distributed medical cannabis brands. With recently signed deals, in addition to Arizona and Colorado, MüV products will soon be available in a number of U.S. states where medical cannabis is legal, including California, Washington, Oregon, Massachusetts and Nevada, and internationally, in Canada and Puerto Rico.
Since AltMed Arizona introduced MϋV's products in Arizona, MüV products have quickly gained wide reaching attention and recognition. MüV products have received four best of Arizona medical cannabis awards, including two first prizes for its proprietary ethanol extractions that are the foundation of the entire MüV product line.
"Wana Brands is known for its consistent quality, as a national brand and perfectly aligns with MϋV's mission," said Karen Quick, Director, Commercial Operations for AME. "Colorado is a leading market for the cannabis industry, but there are no other products that can meet MϋV product's level of sophistication and patient-friendly delivery methods. We are looking forward to introducing our metered dose inhalers, transdermal patches and topical medical cannabis lines to the state." Wana Brands is Colorado's No. 1 Edibles Brand, according to BDS Analytics.
For more information on AltMed Enterprises and/or MüV or to schedule an interview, please contact Todd Beckwith at 941.225.2629 or toddbeckwith(at)altmed(dot)co.
About AltMed Enterprises – Alternative Medical Enterprises, LLC, doing business as AltMed Enterprises, is a fully integrated company that brings pharmaceutical industry precision to the development, production and dispensing of medical cannabinoids.
Forward-Looking Statements
To the extent any statements made in this press release contain information that is not historical, these statements are forward-looking in nature and merely express our beliefs, expectations or opinions. For example, words such as "may," "should," "estimates," "predicts," "continues," "believes," "anticipates," "plans," "expects," "intends," "potential," "strategy" and similar expressions are intended to identify forward-looking statements. Such statements are based on current expectations or estimates and involve a number of known and unknown risks and uncertainties that could cause our actual results, performance or achievements to be materially different from the results, performance or achievements expressed or implied by such forward-looking statements. Factors that could cause or contribute to these differences include, but are not limited to, the following: (i) our ability to implement our business strategy of distributing high quality cannabis products where permissible under applicable law; (ii) availability and cost of additional capital; (iii) our ability to attract, retain and motivate qualified employees and management; (iv) the impact of federal, state or local government regulations; (v) competition in the cannabis industry; (vi) our ability to generate revenues; and (vii) litigation in connection with our business. All forward-looking statements included in this press release and attributable to us or any person acting on our behalf are qualified by this cautionary statement. Forward-looking statements speak only as of the date on which they are made, and, except as required by law, we undertake no obligation to update or revise any forward-looking statement, regardless of whether new information becomes available, future developments occur or otherwise.