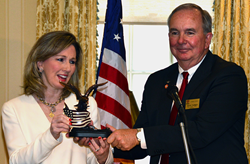 Washington, DC (PRWEB) May 19, 2017
Six members of Virginia's congressional delegation joined more than 100 attendees at the 33rd annual Virginia Congressional Appreciation Luncheon, hosted by the Virginia Council of Chapters (VCOC) of the Military Officers Association of America (MOAA), at the Capitol Hill Club.
Congressional delegation members discussed key national defense-related legislative issues with leaders representing 16 MOAA chapters from the commonwealth. MOAA members expressed their gratitude for all Congress has accomplished this past year to support currently serving and retired uniformed service members, veterans, and military families and survivors.
The legislators in attendance included Reps. A. Donald McEachin, D-4th District; Bob Goodlatte, R-6th District; David Brat, R-7th District; Don Beyer, D-8th District; Barbara Comstock, R-10th District; and Gerry Connolly, D-11th District.
Goodlatte told the audience, "I want you to know I will continue fighting to ensure our nation's military receives the quality of life they earned and deserve." He continued, "We're dedicated to ensuring our priority is to protect our freedoms and [to ensure] the people who do that are properly cared for and compensated for making such a sacrifice for themselves and their families."
Connolly's nephew, a Black Hawk pilot with the Massachusetts National Guard, recently returned from a fourth tour in Iraq and Afghanistan. The congressman praised MOAA's legislative efforts in support of National Guard and Reserve issues by saying, "Your legislation recognizing parity is really so important."
Addressing MOAA's priority issue of repealing sequestration, Connolly said, "We will figure out sequestration, but it must be done in a bipartisan way." He went on to say, "It cannot be seen as at the expense of everything else. We've got to get rid of sequestration, invest in the military and invest in ourselves."
The VCOC recognized Comstock with its annual legislative award for her faithful support and loyal service regarding veterans and military compensation and benefits legislation. In presenting the award, retired Air Force Col. Steven Turner, VCOC president, said of Comstock, "Last year she championed legislation that affected us in a positive way," including key provisions within the FY 2017 National Defense Authorization Act, her participation on caucuses related to ship building and her contributions to science, technology, engineering and math issues as the Research and Technology Subcommittee chairwoman.
Retired Navy Capt. Jim Carman, vice president of Council-Chapter Affairs and Member Support at MOAA, took the opportunity to thank congressional members for championing military and veteran's issues in 2016, saying, "MOAA was grateful for the work in passing one of the most important and comprehensive [FY 2017] defense bills in many years." Carman pointed out, "As we turn our attention to the 115th Congress and the return of sequestration, we know there will be an increased focus on modernization and readiness that will only amplify the pressure on military personnel accounts."
Carman applauded VCOC members for their ability to work with their congressional leaders to find solutions to challenges impacting the military. "We know you are our most committed members and the first to engage in support for MOAA advocacy priorities," he said. Carman reminded the audience, "Last year, your grassroots work was instrumental in some of the success championed by the association: the full 2.1 percent pay raise for the currently serving, elimination of the reductions in basic allowance for housing and limiting TRICARE fee increases."
The VCOC comprises the 18 MOAA chapters in the state and works to further the goals of national MOAA and local MOAA chapters. More than 42,000 MOAA members make their home in Virginia.
Patriots Colony at Williamsburg sponsored the luncheon.
About MOAA:
Military Officers Association of America (MOAA) is the nation's largest officers association with more than 355,000 members from every branch of service, including active duty, retired, National Guard, Reserve, and former officers and their families and survivors. MOAA is a nonprofit and politically nonpartisan organization and an influential force in promoting a strong national defense. MOAA represents the interests of servicemembers and their families in every stage of their lives and careers, and for those who are not eligible to join MOAA, Voices for America's Troops is a nonprofit MOAA affiliate that supports a strong national defense. For more information, visit http://www.moaa.org or http://www.voicesfortroops.org.
Members of the news media who wish to be added to our media distribution list for MOAA news releases, please contact requestnews(at)moaa(dot)org. Visit MOAA's Multimedia & Press Room at http://www.moaa.org/media/default.htm.