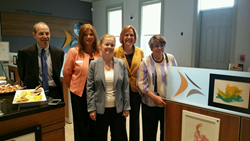 Pine Brook, NJ (PRWEB) May 18, 2017
Kearny Bank's Office, located at 267 Changebridge Road recently hosted an art exhibition featuring work of the local abstract artist, Brenda Hendrickson.
"We're honored to offer our newly renovated office as an exhibit space for Brenda's original artwork," Lenore DeFilippo, AVP/Pine Brook's Branch Manager said. "Building community connections - working with local artists, schools and non-profit organizations is an integral part of who we are at Kearny Bank," DeFilippo added.
To learn more about Brenda Hendrickson's work, visit http://www.BrendaHendricksonFineArt.com.
Kearny Bank, a federally-chartered stock savings bank, has supported the communities it serves since 1884. The Bank has assets of $ 4.8 billion and operates 42 full-service banking offices in Northern and Central New Jersey and Brooklyn and Staten Island, New York.
Enclosed Photo (left to right): Evan Trachtenberg, Mortgage Loan Officer, Margaret Sanchez, Vice President/Small Business Banker, Lenore DeFilippo, Assistant VP/ Branch Manager, all of Kearny Bank, Rosanna Imbriano, NJAWBO President & Brenda Hendrickson, featured artist.