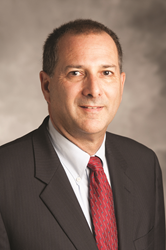 Rick's leadership has ensured that ALOM's customer satisfaction survey results, already at world-class levels, have consistently increased -- ALOM President & CEO Hannah Kain
Fremont, CA (PRWEB) May 18, 2017
ALOM, a Silicon Valley-based global leader in supply chain management, has announced the promotion of Rick Mizzo to the position of Vice President, Customer and Supplier Relations. This move reflects ALOM's growing customer and supply base throughout the globe.
As Vice President of Customer and Supplier Relations, Mr. Mizzo is responsible for all aspects of ALOM global account, procurement, and supply base management to support ALOM's growing client list of Fortune 500 companies in the automotive, utility, technology, medical device, government, and e-commerce/retail verticals. Mr. Mizzo joined ALOM in 2014 and previous to this promotion held the position as ALOM's Director of Account and Supply Base Management.
"As our business has grown globally, Rick has made a significant impact in enhancing our clients' competitive value by elevating our account and supply base service levels around the world. He was instrumental in establishing our Asia-Pacific headquarters in Hong Kong and building our network of critical new suppliers. Further, Rick's leadership has ensured that ALOM's customer satisfaction survey results, already at world-class levels, have consistently increased," said Hannah Kain, ALOM President and CEO.
Mr. Mizzo is a respected supply chain professional holding three U.S. patents in RFID technology. He has leveraged this skill set to contribute to ALOM's legacy of technology-driven innovation and service excellence. Earlier this year Mr. Mizzo was named to the list of 2017 "Supply Chain Pros to Know" by Supply & Demand Chain Executive.
In a related organizational move, ALOM announced the promotion of Holly Tran to the position of Director, Account Management. Holly joined ALOM in 2013 and previously held the position of Sr. Account Manager.
These promotions take place as ALOM is experiencing significant growth both in new account service contracts and strategic supplier relationships.
About ALOM
ALOM is a global supply chain management services and solutions provider serving as a partner to its Fortune 100 clients in the automotive, government, medical, telecommunications, and utility/energy sectors. Its expert team of strategists, engineers, and specialists operate in ALOM's global headquarters in Fremont, CA office, its offices across the U.S. and in Hong Kong, and its 15 affiliated facilities around the world. ALOM service offerings include procurement, e-commerce, inventory, assembly, digital media duplication, print management, fulfillment, IT integration and operations. ALOM is proud to deliver its clients' products and services impeccably, enrich the client experience, and uphold their brand reputations. http://www.alom.com