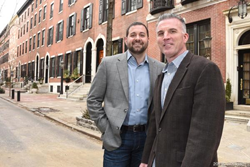 Philadelphia, PA (PRWEB) May 18, 2017
Houwzer, a full-service, tech-enabled real estate brokerage with the industry's first 0% listing commission model, announced today that is has secured $2 million in a seed funding round. With $1.6 million already closed, the remainder of the round is scheduled to close on June 1, 2017.
In addition to growing operations in Philadelphia where Houwzer is headquartered, the funds will aid an expansion into a second major metro market in 2017. This comes on the heels of Houwzer's 2017 expansion to Southern New Jersey and Philadelphia's Pennsylvania suburbs, including the Main Line. The remaining funds will enable Houwzer to launch a technology platform that will streamline the status quo of chaotic transactions and offer a simplified, consistent home transaction experience for both buyers and sellers.
The round was led by Jay Minkoff, serial real estate entrepreneur, co-founder of Homebuilder.com, and Houwzer's Chairman and operating partner. Jay knows a little bit about what technology can do for the industry. Jay helped lead the effort to put new construction homes and communities on the internet, and sold the company to Homestore, then the parent company to Move Inc, the owner of Realtor.com. Additional funding sources include Ben Franklin Technology Partners, the StartupPHL Angel Fund, and other local industry leaders and angel investors.
The investment is a continuation of tremendous recent momentum for Houwzer. After closing more than 150 deals in 2016, the company is on track to increase sales by 200-300% in 2017. In the past year, Houwzer has also grown from a staff of 6 full time employees to more than 35, with plans to reach 55 by year's end.
Having saved their customers more than $2 million in listing fees to date, Houwzer continues to optimize efficiency through technology. The data gleaned from thousands of customer interactions informs decision-making across the brokerage from listing prices to marketing.
"Technology has saved consumers billions of dollars in other brokerage/agent industries as seen in the major decline of stock brokers and travel agents," said Dr. Kevin Gillen, Senior Economic Advisor for Houwzer and Senior Research Fellow for the Lindy Institute for Urban Innovation at Drexel University. "Meanwhile, the housing industry is stuck in a cycle of 6% commissions. Houwzer is using technology to modernize the industry, the first model to cut commissions in half while still providing full service representation."
"There are about 75 million homeowners in America and $75 billion in commissions paid out each year in real estate transactions. Houwzer's model has the potential to save the masses thousands of dollars of their hard earned equity when they sell their home," said Mike Maher, Houwzer Co-founder and CEO. "That kind of impact is not a 'niche' or representative of a 'lifestyle brand,' but one that can do a lot of good for a lot of people. Disruptive models must be both better AND cheaper than the incumbents - that's the Houwzer promise that we deliver. Our goal is to build a category-leading national brand, and this investment round will take us one step closer."
About Houwzer
Houwzer's first to market, 0% listing commission model is a modern, fairly-priced brokerage for savvy homeowners. Houwzer agents are listing and buyer specialists who receive salaries instead of commissions, allowing them to focus on service, not just sales. Established in February 2015, Houwzer has saved savvy homeowners more than $2 million in unnecessary listing fees and has booked well over $100 million in sales volume. Hundreds of savvy homeowners are finding a better way home at Houwzer.com.