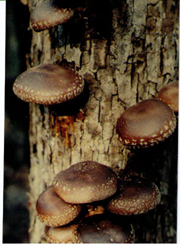 Shiitake Mama Says: Kits from $18 for a Baby 'Shroomie to $90 for the deluxe Best Buy -- 2 14" logs in their own soaking trays. A kit for every kaboodle!
Perkins, OK (PRWEB) May 18, 2017
In Nature, shiitake mushrooms push through the bark of hardwood branches in the spring and fall. The older the wood, the more mushrooms grow on the branch. The same is true for Shiitake Mama's mushroom growing kits.
Shiitake Mama Says, "Nature does it in spring and fall and you can too – Soak a shiitake log in cold, non-chlorinated water (Nature uses rain and cool night temperatures) and in a few days you can harvest fresh, organic, tasty, meaty, healthful shiitake mushrooms."
Shiitake Mama should know. She is Sandra Williams of Lost Creek Mushroom Farm. She and her husband Doug have been growing shiitakes for over 30 years. "While the shiitakes will grow year around indoors, the outdoor Spring and Fall harvests bloom the biggest, best mushrooms, and lots of them. It's their natural season.
"We celebrate the spring harvest with sautéed shiitakes, shiitake soups, shiitake sauces, scrambled eggs and shiitakes, shiitake spaghetti, everything we can think of. We also hunt morels, so spring is truly mushroom season at the Lost Creek Mushroom Farm house."
Lost Creek Mushroom Farm, winner of Top Seller Awards on Amazon.com, guarantees their logs and provides excellent customer service. Branding and copyright confusion led to the birth of Lost Creek Mushroom Farm's Shiitake Mama products.
According to Sandra, "Shiitake Mama is a lot more fun. Business is more fun. Life's more fun as Shiitake Mama. I've felt like her for decades. Now I am her."
Lost Creek's new branding, "Shiitake Mama" has created a "family" of mushroom growing kits: Shiitake Ma & Pa, Baby 'Shroomie, Big Boy, Grandad Tree in a Tray, and it's most popular product, the Shiitake Mama Log Kit. Prices range from $18 to $90 and shipping is free. Unique in the world of mushroom log kit sellers, Shiitake Mama guarantees that kits over 8" long will grow mushrooms. "We started that way and we'll keep it that way," she said. "We want our customers and our logs to be happy."
Logs will bloom about every two months indoors like plants or outdoors in shade. They yield only a few mushrooms at first, with increasingly larger harvests as they mature. Kits include one or more logs that are ready to grow mushrooms, plenty of instructions, and a recipe booklet. Janet Bratkovich's Shiitake Sampler Cookbook with 51 kitchen-tested recipes by can be shipped with a log for $10.95.
Order on shiitakemama.com, Amazon.com, or by phone at 800-792-0053. Free brochures are available on request.
Sandra and Doug donate a portion of sales to their Mushrooms for Well-Being Foundation – Mushrooms in Ghana Project. The project is increasing knowledge, skills, and helping build mushroom production facilities to expand small-scale mushroom farming in Ghana and West Africa. They offer programs and presentations on growing mushrooms, on medicinal mushrooms, and about how mushrooms affect our world. Contact them at shiitakemama(at)provalue(dot)net.