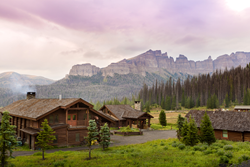 Far, far away deep in a forest in Wyoming, lies a hidden resort … the perfect place to go if you want to get away from it all.
Dubois, Wyoming (PRWEB) May 18, 2017
An exceptional summer destination for travelers in the know, Brooks Lake Lodge & Spa in the Rocky Mountain wilds of Wyoming is offering a rare opportunity to experience the ultimate Western-style vacation. Typically booked in advance for summer peak season, the intimate all-inclusive Brooks Lake Lodge has had several select dates become available last-minute – a chance for an unexpected all-out Wyoming adventure this June 25-30, July 15-18 and August 2-4.
"Far, far away deep in a forest in Wyoming, lies a hidden resort. Because the resort is so hidden, it's the perfect place to go if you want to get away from it all," wrote Only In Your State about Brooks Lake Lodge recently. Indeed, the luxurious guest ranch is surrounded by Wyoming's Shoshone National Forest – the first federally protected forest in the U.S. The elegantly rustic resort pampers from the get-go with a remarkable staff-to-guest ration of 2:1, providing a getaway that includes everything from quiet respite to heart-pounding adventure.
Remote yet easily accessible and packed with immersive experiences, Brooks Lake Lodge is within easy driving distance of Jackson Hole, Yellowstone National Park and Grand Teton National Park. The upscale dude ranch features an abundance of outdoor activities in summer, including hiking, horseback riding and fishing in the forest backcountry, canoeing around scenic Brooks Lake, and practicing archery framed by a mountain backdrop.
Rustic-luxe lodging and a relaxing spa add to the appeal for those looking for an uncommon combination of nature-rich outdoor amenities and sumptuous accommodations. All guest meals, masterfully prepared by the expert kitchen, are included, and the on-site Cowboy Bar serves up casual nighttime entertainment. Also during the summer season, separate children's activities are available.
And for late summer travelers seeking relaxation, romance and rejuvenation, the Lodge offers several late summer specials– including the new Empty Nesters Renewal package, available Aug. 21 – Sept. 13, 2017. The option-packed package brings together a full roster of outdoor activities, the lodge's fantastically curated gourmet meals and specially priced spa treatments for two. The discounted all-inclusive package is priced at $400 per person per night (double occupancy).
About Brooks Lake Lodge & Spa
Brooks Lake Lodge & Spa – a 100-year-old historic guest ranch that travel site Only in Your State recently showcased as one of Wyoming's must-visit destinations – is located just one mile from the North American Continental Divide. Surrounded by mountains, evergreen forests, wildlife and the alpine Brooks Lake, and with views of the Pinnacle Buttes, Austin's Peak and Brooks Mountain, the exclusive, all-inclusive Wyoming Rocky Mountain resort offers five-star service, luxury accommodations and gourmet dining. The new separate spa facility was built with Western craftsman-style detailing to complement the historic lodge. A dude ranch by summer and ski and snowmobile haven in winter, the lodge provides year-round activities for outdoor enthusiasts. All-inclusive rates include lodging, meals, activities and spa access. For additional information and reservations visit http://www.brookslake.com or call 866.213.4022.
Media Contact: Amy Stark, Word PR + Marketing, amy(at)wordprmarketing(dot)com, 307.734.5335