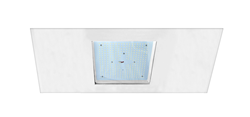 This emergency battery backup enables these lay-in troffer LED lights to stay up and running when all power is lost.
Kemp, TX (PRWEB) May 18, 2017
Larson Electronics LLC, a leading industrial lighting company, announced the release of a new lay-in troffer mounted LED light with battery back-up (GAU-LI-EMG-48-90-LED-WCM) to be added to its expanding catalog of products this week. This LED light offers high light output from a compact form factor, and features a battery backup for emergency situations.
This lay-in troffer mounted LED light is a powerful failsafe lighting solution for general area lighting systems, commercial and indoor spaces. This 120-watt lamp runs on common 120-277V AC voltages, which can be found in most mainstream facilities. This 4x2 lay-in LED lamp is constructed of die cast aluminum with a powder coat finish over a chromate conversion coating. A clear flat glass lens ensures transparency during illumination. This light is designed for recessed mounting and requires a mounting hole to be made in the ceiling or preferred surface. For advanced protection in wet locations, this emergency luminary is reinforced with IP67 waterproof features.
A battery backup unit has been added to this LED light for emergency light functionality. This emergency battery backup will run one bulb at the standard UL suggested 90 minutes after power is lost at 3,500 lumens. The light recharges the battery once electrical power is restored. Standard configuration includes a single emergency battery backup that is automatically recharged and kept in a ready state. This LED will operate at 20% power when switched into battery backup mode. The battery backup unit includes a switched leg for turning the light fixture on/off without kicking the unit into emergency mode.
"One of the great things about this light is the battery backup," said Rob Bresnahan, CEO of Larson Electronics LLC."This emergency battery backup enables these lay-in troffer LED lights to stay up and running when all power is lost. As soon as power is restored, the battery will automatically recharge itself."
About Larson Electronics LLC: Larson Electronics LLC is a manufacturer of industrial lighting equipment and accessories. The company offers an extensive catalog of industry-grade lighting and power distribution products for the following sectors: manufacturing, construction, food processing, oil and gas, military, marine and automobile. Customers can benefit from the company's hands-on, customized approach to lighting solutions. Larson Electronics provides expedited service for quotes, customer support and shipments.
High Resolution Image 1-GAU-LI-EMG-48-90-LED-WCM
Product Cut Spec Sheet-GAU-LI-EMG-48-90-LED-WCM