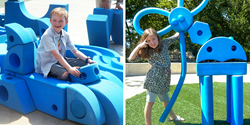 We are excited to announce the launch of the Build-A-Thon 3 contest! It grows in awareness and participation each year and I'm sure this contest will be no different
(PRWEB) May 18, 2017
Imagination Playground, LLC – creators of the breakthrough Big Blue Blocks that encourage child-directed free play, announces its next contest, Build-A-Thon 3! The contest will run May 18, 2017 through December 31, 2017 to allow children plenty of opportunity to build and submit their creations.
Build-A-Thon 3 is a contest that allows children ages 2-10 to create using either Big Blue Blocks at any of Imagination Playground sponsor locations (schools, local family centers, children's museums, discovery centers and science centers) or using Imagination Playground's 3D Builder app. The app is available for android and apple phones, or browser version on the company's website. With two ways to play, children can submit photos of their physical builds or screen shots of their digital builds. There is no limit on the number of builds a child can submit. Everyone is encouraged to enter multiple times to increase their chances of winning.
There are 3 prize levels with even more ways to win! The first 1000 entries are guaranteed a prize, so entrants are encouraged to enter early. Builders can win for themselves or support their favorite organization (school, church, daycare, or community center) by nominating them to receive the playground.
The prizes offered include:
Grand Prize: A trip to the Imagination Playground Park in New York City and a 105-Piece Big Block Set awarded to the best build
1st Place: A 105-Piece Big Block Set awarded to physical and digital builds
2nd Place: A 55-Piece Big Block Set awarded to physical and digital builds
3rd Place: Mini Pop-Out Playgrounds for the first 1000 entries
Imagination Playground President David Krishock shard his enthusiasm by saying, "we are excited to announce the launch of the Build-A-Thon 3 contest! It grows in awareness and participation each year and I'm sure this contest will be no different! I look forward to seeing the children's builds as their creativity is amazing!"
To learn more about the Build-A-Thon 3 contest, such as how to enter or download the app, visit us at http://www.imaginationplayground.com/promotions/build-a-thon/index.html or contactus@imaginationplayground.org.
About Imagination Playground
Imagination Playground is a breakthrough play space concept developed to encourage child-directed, creative free play. The kind of play that experts say is critical to children's intellectual, social, physical and emotional development. Created by architect and designer David Rockwell and the Rockwell Group, Imagination Playground enables children to play, dream, build, and explore endless possibilities. Imagination Playground finds its home in daycare centers, kindergartens, elementary schools, children's museums—and science, nature, discovery centers, camps, family centers, children's hospitals, hotels, public parks and more—in North America and over 60 countries overseas. For more information, visit http://www.imaginationplayground.com