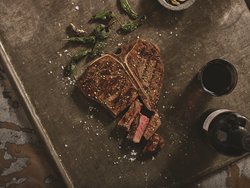 Omaha, Neb. (PRWEB) May 18, 2017
Omaha Steaks, the Official Sponsor of Dads®, and the nation's leading purveyor of premium grain-fed beef and gourmet foods, announced the results of a recent nation-wide survey which found that over 65 percent of dads would enjoy receiving steak as a Father's Day gift.
"This proves what we've always heard from our customers, dads want steaks for Father's Day," said Senior Vice President and Family Owner Todd Simon. "Just as flowers are synonymous with Mother's Day, we continue to see increased demand as the go-to gift for Father's Day."
The survey also indicated that nearly 53 percent of dads prepare their Father's Day meals on the grill and the three cuts of steak most desired by dads are Filet Mignon (23.11 percent), Ribeye (20.69 percent), and T-Bone/Porterhouse (18.88 percent).
In response to this demand, Omaha Steaks is offering the perfect gift for dad this Father's Day, the Father's Day T-Bone Gift Package for $59.99:
Father's Day T-Bone Gift Package (51071)
30 oz. T-Bone Steak
4 (3 oz.) Gourmet Jumbo Franks
4 (3 oz.) Potatoes au Gratin
6 in. Premium New York Cheesecake (2 lbs.)
1 oz. jar Signature Seasoning
FREE 8 (2 oz.) Ground Beef Sliders
"This package is the ultimate gift for the steak lover in your life," Simon added. "The gigantic 30oz. T-Bone looks great on the grill and is sure to impress any dad."
To complement this package, Omaha Steaks has prepared a new recipe – Jerky-Encrusted T-Bone Steak – which calls for grated Omaha Steaks Original Beef Jerky and Kosher Salt as steak seasoning. View the complete recipe at http://www.omahasteaks.com/recipe/jerky-encrusted-t-bone-steak.
For more information on all Father's Day gifting and meal options, visit http://www.omahasteaks.com/buy/Gifts/Fathers-Day.
About Omaha Steaks
Omaha Steaks, founded in 1917, is an Omaha, Nebraska-based, fifth-generation, family-owned company that markets and distributes a wide variety of the finest quality USDA-approved, grain fed beef and other gourmet foods including seafood, pork, poultry, side dishes, appetizers, complete meals and desserts. Today, Omaha Steaks is recognized as the nation's largest direct response marketer of premium beef and gourmet foods, available to customers by calling 1-800-228-9055, online at http://www.OmahaSteaks.com or at retail stores nationwide.
###