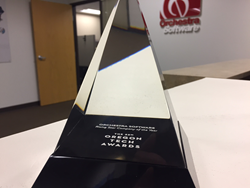 Orchestra Software takes pride in our passion for not just creating software for craft breweries and distilleries, but also providing new job opportunities in the great state of Oregon
Portland, Oregon (PRWEB) May 18, 2017
Orchestra Software, the leading provider of business management software for craft beverage manufacturers, was recently awarded Technology Company of the Year by the Technology Association of Oregon.
Now in its 33rd year, the annual Oregon Technology Awards Ceremony celebrates excellence and achievement of companies in Oregon's blossoming technology industry. Orchestra Software was one of 22 finalists in seven categories ranging from "Pre-revenue" and "Enterprise" to "Influential Technology" and "Most Disruptive Technology."
Orchestra Software topped the "Rising Star" category for companies with annual revenues between $3 – $20 million.
"We are honored to be recognized by the Technology Association of Oregon as a Rising Star among the leading tech companies in the region," said President and CEO, Brad Windecker. "Orchestra Software takes pride in our passion for not just creating software for craft breweries and distilleries, but also providing new job opportunities in the great state of Oregon,"
Orchestra Software will improve its 314% 3-year-growth rate and support future growth projections by investing in the local Oregon economy through active hiring plans and office space expansion.
Over the next 12 months, Orchestra Software plans to double its current workforce of 45 employees, adding new positions in Software Engineering, Customer Success, DevOps, Sales and Marketing, among others.
About Orchestra Software
Founded in 2008, Orchestra Software provides craft beverage manufacturers with an all-in-one business management solution, enabling you to "Conduct Your Craft," from grain to glass and everything in between.
Orchestra Software has received numerous awards from both global companies and local organizations including SAP, Inc. 5000, and Portland Business Journal
About the Technology Association of Oregon
Technology Association of Oregon is a local nonprofit working to build opportunities, better our economy and unify a voice for innovation in Oregon and beyond. A recognized leader in shaping and growing technology and business communities, TAO empowers businesses and entrepreneurs through networks, events, advocacy, resources and more. With over 400 member-companies, TAO's network brings together some of the largest companies in the world, small startups, and tech-enabled companies that are using technology to drive growth and innovation. For more information, please visit http://www.techoregon.org.