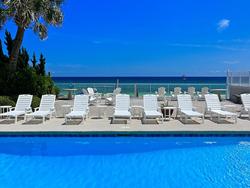 Last year, Rise Up took first place with an 838.2 pound blue marlin on the last day of the tournament.
Destin, FL (PRWEB) May 18, 2017
Along the Emerald Coast swims a fish worth nearly half a million dollars. This is no fish tale; it's a fact of the richest fishing tournament in Destin: the 15th Annual Emerald Coast Blue Marlin Classic. Teams from across the Southeast, including the occasional celebrity, compete for their share of more than two million dollars in prize money, and Southern Rentals & Real Estate is proud to provide Destin vacation rentals for anglers and spectators alike.
From June 21-25, 2017, captains and crew take to the Gulf of Mexico in search of record-setting fish. In addition to the grand prize for the largest blue marlin, anglers compete in three categories: weighed billfish and gamefish, release division, and crew division. Each category awards the top three winners with a 50/30/20 split.
The first category, though, is the real moneymaker: who caught the heaviest weighed blue marlin, dolphin, tuna and wahoo? To the crew that reels in the scale-tipper goes the reward. The top billfish earns 60 percent and 40 percent goes to the top gamefish.
Last year, Rise Up from Savannah, Georgia took first place with an 838.2 pound blue marlin on the last day of the tournament. The team's payout was an astonishing $431,835. The previous day, Breathe Easy was in first place with an 835.8 pound marlin and decided not to go out on the final day, secure in their impending title. However, a mere 2.4 pounds bumped Breathe Easy to second place. Their quarter of a million dollar prize, however, wasn't a bad consolation.
Another record-setting catch belonged to none other than celebrity chef and Food Network star Emeril Lagasse. Aboard the Aldente, his 36.6 pound bull dolphin, more often called mahi mahi, raked in more than $125,000.
Fishermen aren't the only ones having fun during the classic. Family-friendly events take place all week at the Village of Baytowne Wharf in Sandestin. Spectators can enjoy the thrill of nightly weigh-ins at the Baytowne Marina, checking the scoreboard to see where their favorite teams rank. On Wednesday night, catch a free concert on the village green while waiting for the weigh-in to begin. Afterward, dine at Acme Oyster House, Agave Azul, or Hartell's Village Diner (famous for its 50s style diner menu and ice cream bar).
Stay near all the action in a Southern vacation rental for convenient access to tournament events.To accommodate the whole crew, consider Sea-Esta A & B, a Gulf-front duplex that sleeps 34 in total. Separated into East and West wings, it's the best of proximity and privacy. Not to mention, it has a private pool, balcony, and complimentary bicycles.
Smaller groups enjoy condo rentals including Ariel Dunes. These two bedroom, two bathroom condos sleep six and offer access to eight pools, eight tennis courts, and a championship golf course, ensuring guests find plenty to do while waiting for the boats to come into harbor during the classic.
Finding the best place to stay in Destin during the highly-anticipated classic has never been easier, thanks to SouthernResorts.com.
Established in 1995, Southern Rentals and Real Estate is one of the most sought-after providers of vacation rentals in Northwest Florida and Coastal Alabama. Locally owned and operated by two sets of brothers, Brad and Mike Shoults and Kevin and Kerry Veach, and Susan Carleton, Southern represents nearly 1,400 vacation rentals, 1,000 long term rentals, countless real estate opportunities and more than 40 associations along the Gulf Coast. The Southern family of companies includes Southern Vacation Rentals, Southern Residential Leasing, Southern Real Estate Sales, RE/MAX Southern, and Southern Association Management. For more information, visit GoSouthern.com.