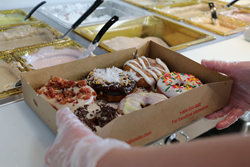 As a new member of the Hershey community, Duck Donuts is thrilled to offer Vista School children an opportunity to experience what it's like to make their own donuts, and be an honorary member of our Duck Donuts family.
Mechanicsburg, Pennsylvania (PRWEB) May 18, 2017
Duck Donuts has invited students from The Vista School, in Hershey, Pennsylvania, to enjoy a morning of donut-making and decorating their own Duck Donuts creation while experiencing a behind-the-scenes look at the company's third Pennsylvania donut shop.
Todd Plummer, Stephanie Plummer, and Tara Detwiler, co-owners of the new Duck Donuts in Hershey, at 261 West Chocolate Avenue, will host the students on May 18, from 10:30 a.m. to 12 noon, before the store officially opens to the public on May 19.
Russ DiGilio, founder and owner of Duck Donuts Franchising Company LLC, headquartered in Mechanicsburg, PA, will be on-site to share the story of Pennsylvania-headquartered Duck Donuts and its organic growth with 37 open stores and 126 additional contracts as of May 1.
"We are so excited to introduce the Hershey community to Duck Donuts and to give the honor of making the very first donuts at our shop to an inspirational group of young people that we admire. The students from The Vista School will learn about making fresh donuts, and they can create their own personal creation all in a sensory-friendly environment," says Todd Plummer, co-owner of Duck Donuts in Hershey. "If we can make learning fun while we make some award-winning donuts, and share some special time with our young friends from The Vista School, then we're off to a great start in the community."
"The Hershey launch is unique because Todd, Stephanie, and Tara have combined their passion for warm, delicious & made to order donuts with a special way to celebrate children, even before the doors open. As part of our company culture, we emphasize the importance of giving back to the communities we are fortunate to serve," says DiGilio. "Our #QuackGivesBack initiative is franchise-wide and each store chooses the charity or organization they will donate to. The Hershey co-owners chose The Vista School Playground Project because they see the tremendous impact the school has on a family that's close to them. Autism Awareness was highlighted in April, and the Hershey co-owners are making sure that the awareness and education continues."
"Community-based instruction is part of The Vista School's curriculum and ordering a donut, watching the actual frying, choosing any combination of toppings, drizzles, and frostings, and then packaging their treats is an exercise the students will really enjoy," says Linda Whipple, Director of Development at The Vista School. "They'll learn what Duck Donuts team members do and perhaps learn skills they can use later when they're working in paid positions with local employers."
"The Vista School brings state-of-the-art special education and therapeutic services to children living with autism in central Pennsylvania. A group of highly committed parents and professionals help prepare their students for adulthood through increased independence," says DiGilio. "As a new member of the Hershey community, Duck Donuts is thrilled to offer the children an opportunity to experience what it's like to make their own donuts, and be an honorary member of our Duck Donuts family."
Duck Donut Facts:

Hershey is the third Pennsylvania Duck Donuts location to open, following Lancaster and Mechanicsburg.
There are 4 scheduled to open in PA including King of Prussia, State College, Pittsburgh, and Allentown.
There are currently 37 open Duck Donuts franchise locations.
Duck Donuts are best enjoyed warm with a cup of their signature coffee blends, Riptide Roast, Light House Blend, or Sunset Pier Decaf.
There is a viewing station at every Duck Donuts location for children (and grownups) to watch their donuts being made before their eyes.
Upcoming Duck Donuts locations projected to open in May 2017 include; Nags Head, NC; Dayton, Ohio; Alpharetta, GA; Wilmington, NC; and Baltimore, MD.
Autism Facts:

More than 3.5 million Americans live with an autism spectrum disorder.
1 in 68 children are born with an autism spectrum disorder.
Autism is a serious developmental disorder that impairs the ability to communicate and interact.
70 million individuals worldwide have autism.
Autism is the fastest-growing developmental disability in the United States
1 in 42 boys are diagnosed with autism.
1 in 189 girls are diagnosed with autism.
A child can be diagnosed with autism as early as 18 months.
About Duck Donuts
Duck Donuts was founded in 2006 by Russ DiGilio in Duck, North Carolina. His intention? To solve a family vacation problem: "Our family wanted a place to buy warm, delicious & made to order!™ donuts, and when we couldn't find one, we decided to start our own."
By 2011, Duck Donuts had expanded to four Outer Banks locations and the donut business was so successful that DiGilio was continuously approached about franchise opportunities and by fans who begged for a Duck Donuts in their communities. The first franchise opened in Williamsburg, VA, in 2013, and there are now 37 open franchise locations and 126 additional contracts.
Duck Donuts emphasizes the importance of giving back to the local community through their #QuackGivesBack initiatives every month and their national corporate partnership with Chemo Duck. "Our mission is twofold," says DiGilio, "to serve the most amazing warm, delicious, and made-to-order donuts, and to contribute to the communities we call home."
The Duck Donuts Experience
"We discovered that the most powerful marketing advantage we have is the aroma of warm donuts wafting from every store. Our light vanilla cake donut is a little crispy on the outside and fluffy on the inside, made fresh right in front of you, hand-dipped in hot icing, and sprinkled with your choice of delicious toppings and drizzles. It's that simple," says DiGilio.
Children (and grownups) love to stand on the strategically placed step in the waiting area, allowing them to see the entire process as the donut machine cooks and carries their donuts down the line, where they are dipped, topped, packaged, and served warm in the box. Duck Donuts serves its own signature coffee blends—Riptide Roast, Light House Blend, and Sunset Pier Decaf with new special seasonal flavors changing throughout the year—and offers breakfast options, as well as catering services. Indoor and outdoor seating is available at most locations.
To learn more or to share your Duck Donuts experience, Like us on Facebook, follow us on Instagram, or send us a Tweet.
###