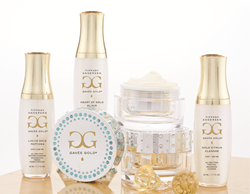 LAS VEGAS, NEVADA (PRWEB) May 18, 2017
Gavée Gold, the luxury skincare collection formulated by Tiffany Andersen, announced this week that it has signed an exclusive two-year distribution agreement with Boost Global LLC.
The innovative ingredients and technology behind the Gavée Gold skincare collection aligns with Boost Global's mission to introduce cutting-edge beauty products to their exclusive network of high-end spas, clinics, pharmacies, luxury retailers, and department stores. Boost Global LLC distributes more than 10 brands at the moment which range from aesthetics treatments to hair care. Gavée Gold's proprietary blend includes organically extracted 24-karat liquid gold and mineral cell salts that have been naturally purified for over 30 years. These toxin-free formulas are the first to offer the therapeutic benefits that allow gold's beneficial minerals to be absorbed by the skin without infusing metal particles into the skin, unlike other gold skincare lines.
Gavée Gold skincare is one of the only organic, high-performing lines that boasts the sense of opulence and is therefore positioned to successfully compete with other high-end products to which the MENA beauty market is accustomed. In January, Gavée Gold was recognized at the second annual Indie Beauty Expo 2016 Best in Show Awards with the honor of Best Packaging.
"Boost Global was pleased to recently introduce the Gavée Gold brand to the public and our high-end spa partners at this year's Beautyworld Middle East event held in Dubai. Their incredibly unique 24-karat gold skincare line is truly cutting edge compared to any others we have seen in the market today. We look forward to bringing it to our clientele," said Ayham Taki, MENA Sales Manager for Boost Global LLC.
The distribution agreement is open to expansion with additional product lines in the future.
Gavée Gold Anti-Aging Skincare Collection was founded in 2012 by Tiffany Andersen, a top medical aesthetician and holistic health practitioner in Las Vegas. Her mission to develop a safe skincare line came from her having to overcome unimaginable adversities in her own life, including a major car accident that left her nearly paralyzed and the diagnosis and treatment of Stage IV Non-Hodgkin's Lymphoma. She was recently featured on Forbes.com, "How One Woman Beat Cancer And Struck Entrepreneurial Gold." Gavée Gold Skincare Collection utilizes the strict guidelines of the European Union Directive and the products include certified organic ingredients, green friendly preservatives, food grade essential oils, and are cruelty-free.
For more about Tiffany Andersen and Gavée Gold, visit https://gaveegold.com or call 1-800-684-8298. Follow us on our Facebook page, the Gavée Gold Collection, and on Pinterest, Twitter, and Instagram @gaveegold.
Boost Global LLC was founded in 2016 and based in the hub of the MENA region (Dubai)
UAE. The extensive experience of the team has allowed Boost Global to develop a wide
channel network and relationships with over 1000 clients from international hotel chains and department stores, to boutique clinics and pharmacies.
Follow them on Instagram @bgloballlc and their Facebook page at Boost Global.