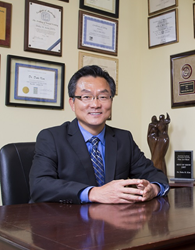 Arlington, VA (PRWEB) May 18, 2017
Dr. Duke Kim, a respected Virginia dentist, is now inviting new patients to experience the benefits of permanent dental implants in Arlington, VA, with or without a referral. Dr. Kim offers the latest technology, the i-CAT® Cone Beam CT imaging system, to offer precise, computer-guided dental implant placement that can last a lifetime. Dr. Kim strongly supports not only treating immediate symptoms such as tooth loss, but preventing the associated systemic effects they can cause.
An award-winning Cone Beam dental imaging system, the i-CAT® CBCT takes three-dimensional images of the complete oral cavity. After capturing and crafting a 3D model of each patient's mouth, Dr. Kim creates a custom surgical guide before starting treatment. These precise images allow leading clinicians to determine the ideal location for each implant placement to not only ensure restored functionality, but long-term reliability.
Over 178 million adults in the United States have one or more missing teeth, according to the American College of Prosthodontists. Tooth loss can limit oral function including speaking, eating and drinking abilities; however, if left untreated, missing teeth can also lead to bone loss and additional tooth loss. After the dental implant body is precisely placed into the jaw bone, the implant body assumes the function of the natural tooth root to form a stable foundation for a dental crown, while also stimulating natural bone growth. Without this implant post, other tooth replacement options are unable to inspire the bone growth necessary to ensure proper oral health.
As a Fellow of the International Congress of Oral Implantologists and an avid believer in continuing dental education, Dr. Kim is highly experienced in offering dental implants and strives to provide modern, healthy alternatives to tooth loss. After meeting with each patient to discuss their individual health, aesthetic goals and capturing 3D images of their oral structures, Dr. Kim creates a treatment plan unique to them. Each surgical procedure provides precise placement and accurate and predictable results. Whether a single missing tooth or a full-arch replacement, Dr. Kim takes pride in restoring his patient's oral health and function.
To learn more about Dr. Kim or the long-lasting, custom crafted dental implants he provides, visit his website at http://www.ballstondentalarts.com. To schedule a personalized consultation about receiving dental implants in Arlington, VA, call Ballston Dental Arts at 703-931-5555.
About the Doctor
Dr. Duke Kim offers personalized dental care at his leading-edge practice, Ballston Dental Arts, in Arlington, VA. Dr. Kim believes in staying up-to-date on the latest advancements in dentistry in order to provide exceptional care and was awarded the Mastership Award by the Academy of General Dentistry for dedicating himself to over 1,100 hours of continuing dental education in the 16 disciplines of dentistry. Dr. Kim follows a whole body approach to dentistry and offers comprehensive services including dental implants, cosmetic dentistry, orthodontics and laser gum therapy with the LANAP® protocol. To learn more about Dr. Kim, Ballston Dental Arts, or the services he offers, visit his website at http://www.ballstondentalarts.com or call 703-931-5555 to schedule a custom consultation.