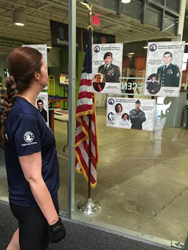 Chantilly, VA (PRWEB) May 18, 2017
The nZone's Adrenaline Bootcamp is proud to partner with Freedom Alliance, a Dulles, VA based educational and charitable organization which sponsors numerous programs and activities aimed at supporting and honoring our service members and their families for their third MURPH Challenge event over Memorial Day Weekend.
The MURPH Challenge, named after LT. Michael P. Murphy (SEAL) is a nationwide event that takes place every Memorial Day Weekend to honor veterans and a tradition that helps participants dedicate a bit of pain and sweat to honor a veteran who gave everything he had. The workout consists of a one mile run, 100 Pull-Ups, 200 Push-Ups, 300 Squats, and another one mile run. Participants are encouraged to scale the workout to their skill level and should not be discouraged if they can't do the entire workout. The idea is to challenge yourself and do a little more and go a little faster every year!
The event is open to all and will be held at The nZone located at 14550 Lee Rd, Chantilly, Virginia. To register for the challenge, sign up online here or come on in to The nZone and register in person. Registration is required to participate in the event. Time slots to complete the workout are available on Friday 5/26, Saturday 5/27, and Monday 5/29. To learn more about the event, click here.
About Freedom Alliance:
Freedom Alliance advances the American heritage of freedom by honoring and encouraging military service, defending the sovereignty of the United States and promoting a strong national defense. Freedom Alliance is recognized by the Internal Revenue Service (IRS) as a public charity organized under Section 501(c)(3) of the IRS code. To find out more about Freedom Alliance please go to their Website at: http://www.freedomalliance.org.
About The nZone:
The nZone is a sportsplex in Chantilly, VA that provides safe, fun opportunities for athletes of all ages to develop athletic skills across a variety of sports in a family-friendly environment where they will also cultivate character traits beneficial to their competitive spirit and the community at large. The nZone's Adrenaline Fitness Bootcamp is Northern Virginia's Premier High Intensity Fitness Bootcamp for adults who want to get in shape! It's designed to help increase strength, speed, power, and cardiovascular endurance in a challenging yet encouraging group atmosphere. To learn more about the nZone visit https://thenzone.com