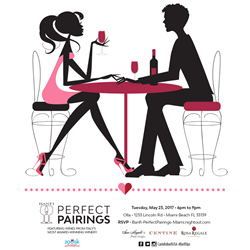 "What I love about wine is its ability to connect people and bring enjoyment to everyday life," says Sandra Krut, Banfi Brand Director, "In my mind, the Perfect Pairing is quality wines, good food and great people.
New York, New York (PRWEB) May 18, 2017
The popular "Perfect Pairing" Series is returning, kicking off the exclusive evening event on May 23, 2017, at Olla Restaurant in Miami. Castello Banfi, Italy's premier wine estate, and leading technology-driven dating company, Zoosk, Inc. have once again partnered together to help singles find their perfect pair in wine and dating. On a one-of-a-kind, multi-city speed dating and wine pairing experience, Banfi wine sommeliers will explain which foods pair best with their leading wines, Centine, San Angelo and Rosa Regale while Zoosk will help pair singles through a three-month subscription to their site. Banfi will visit cities across the nation, where they will host hundreds of single men and women for an evening of dating tips and sips.
Beginning in May, these exclusive events will feature some of the nation's most notable chefs and be held at critically acclaimed restaurants that create an enchanting atmosphere for wine education and encountering a potential mate. The Perfect Pairing attendees will be greeted with a glass of Rosa Regale premium sparkling red wine and passed hors d' oeuvres. Throughout the course of the evening, guests will be served glasses of Centine (an approachable Tuscan Red Blend) and San Angelo (the leading Tuscan Pinot Grigio) served with foods that pair well with them. The event experience continues to impress its guests by creating unforgettable moments perfectly paired with you in mind.
The series cities include:

Miami, FL
Chicago, IL
Washington, DC
Houston, TX
Los Angeles, CA
"What I love about wine is its ability to connect people and bring enjoyment to everyday life," says Sandra Krut, Banfi Brand Director, "In my mind, the Perfect Pairing is quality wines, good food and great people. That is why we are so excited to once again partner with Zoosk, one of America's leading dating sites for our 2017 Perfect Pairing events. Together, we can connect people in a relaxed and approachable setting where they can mingle, receive dating tips and sip Banfi wines."
After the speed-dating segment, Zoosk is offering an exclusive three-month subscription to each guest who attends in every city. Banfi is also gifting each guest with samples of Rosa Regale and Brix chocolates to pair with the red sparkling wine. Banfi wants to help attendees fall in love with wine, while potentially finding the love of their life.
For more information about Centine, San Angelo and Rosa Regale, visit the Castello Banfi website at http://www.castellobanfi.com and follow the Banfi Perfect Pairing event experience at #BanfiSips on Twitter (@RosaRegale) and Instagram (@castellobanfiusa) (@Rosa_Regale).
To learn more about Zoosk, Inc., visit their website at http://www.zoosk.com and follow the dating site on Facebook (http://www.facebook.com/Zoosk) Twitter and Instagram (@Zoosk).
About Banfi
Castello Banfi was founded in 1978 in Montalcino, Tuscany, thanks to the will of Italian-American brothers John and Harry Mariani. From the beginning, the goal of the two brothers was to create a state-of-the-art winery, combined with the most advanced technology in the vineyards, to make premium Italian wines. While developing the Castello Banfi estate, the Marianis also purchased an historic winery in Piedmont specialized in the production of sparkling wines; it was there that sparkling red Rosa Regale was born. Today, Castello Banfi is the premier wine estate in Italy, named VinItaly's "Best Winery in the World" an unprecedented five times.
About Zoosk
Zoosk is a leading online dating company that learns as you click to pair you with singles with whom you're likely to discover a mutual attraction. Zoosk's Behavioral Matchmaking™ technology is constantly learning from the actions of more than 40 million members to deliver better matches. With the all-time, top grossing iOS dating app, Zoosk is a market leader in mobile dating. Available in over 80 countries and translated into 25 languages, Zoosk is a global online dating platform.
###